Citroen XM (1989 - 2000)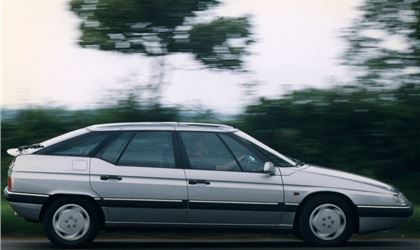 V6 24 valve 2.9 litre petrol, auto, series 2, 1999 (&1989 yr 3 litre V6 12 valve manual comparison)
reviewed by lowflyingpilot on 4 June 2015
5
Cost of maintenance and repairs
5
How you rate the manufacturer
Fast, amazing handling, comfortable, reliable; spacey and large..
Fantastic. This review is long and detailed for accuracy; and for help in deciding if this car is for you. Too many reviews on here seem to be too short and lack appropriate "real" data that people need.

This has to be one of the outdoor persons favourite cars, or long distance cruiser ; for the following reasons:-

* Handling (Citroens hydropneumatic adaptive suspenion),
* Power (V6 24valve 3 litre engine),
* Comfort (most comfortable ergonomic heated leather seats, climate control),
* Space (I believe this is the largest genuine real hatchback car in the world)
* Proper analogue dials- speedometer, tachometer, oil temperature, water temperature, oil level, fuel, all analogue dials with needles. That way you can monitor changing conditions. As I also fly planes; I always prefer an array of analogue dials (rather than digital displays) to get a feel for any changes. Easier to see and get used to a needle's position on a dial, rather than read a number and wonder if it says 3 or 8.

*Downsides:- Large car that is harder to park in the city. This car is best on the open road, and not being used as a city zip about. Its too large to throw through gaps, and too large too fit in many parking spaces. If most of your driving is in cities or towns; then I do not recomend this car.

*Economy on the 1999 Citroen XM 24 valve V6 3 litre petrol auto is a shade over 28 mpg at best variety of roads types from country lanes/B roads/A roads & motorways on trip around the UK. My previous 1989 model 12 valve manual 3 litre V6 gave 30-32 mpg.
Realistic average on non touring trips 22-25mpg.
On cold winter days on short journeys in cities it may be as low as 13-18 mpg if the cars computer is showing accurate data.

The Citroen XM was chosen as my 'powerful' car. The clever Citroen hydropneumatic adaptive suspension, coupled with putting it on Wolfrace wheels on Avon ZZ3 215 tyres, produces a car that one simply can not seem to shake and break the traction of. At the very limit (and I am talking of very fast speeds on tight curves/bends) the car just seems to do miniscule "blips/shakes/skips", but completely hold its tack and track. On these tyres it almost seems to have no limits.

My car is a series two Citroen XM, made in 1999 within the last manufacturing year (indeed last few months) of production, and made in Rennes, France.

This was listed as a 1999 car, but the headline sometimes comes up as 1989. I also have had a 1989 Citroen XM though; to which I sometimes compare it to in this article.

The Avon ZZ3 tyres (non original) on this car,incidentally, are exceptionally good for grip in the snow. The car incidentally does not only have a "sports mode" on the driver adaptive automatic gearbox; but also a snow and ice mode.

In "sports mode" the gearbox changes up & down at exactly the moment one would chose to do for enthusiastic driving , if the gearbox was manual and the driver was changing gears manually. Whether Bends/hills,speeding up or slowing down; the car's gearbox seems to hit the spot and change precisely and quickly. Curiously the only other car that I have experienced this "as perfect as" automatic gear changing on, is on a 2007 semi-automatic (when it is left in automatic and not manual mode)Fiat Panda with the 1.2 litre petrol engine.

NB this crisp gearbox changing applies to the gearbox being in sports mode. The Citroen XM also has another "sports mode" button for the suspension settings too.

The gearbox's normal "economy" (!) setting is more of a "waft" mode. It too changes 'nicely' in an "easy" cruising driving mode. However if you want it at peak torque/power, with a more sensitive accelerator with the car always being "ready" then use the sports mode. In real life I flip between the two modes a bit; depending on the sort of road and traffic conditions. Because my car is a right hand drive model; it necessitates a reach around the gear selector; as the car was designed around left hand drive. They should have put the sports modes buttons on the right hand side for the right hand drive models.



In the snow/ice mode the car starts in a higher gear and trickles the power in slowly. I however prefer not to use it; but rather "feel" the car myself. As it restricts the power, unless you remember and drive accordingly it can leave you wanting more power when you try and exit an ice/snow covered junction where timing is crucial for everyone.

My Avon ZZ3 tyres have exceptional grip in the snow/ice , helped by their tread pattern. In all that snow/ice in the UK in 2008/9 I found that to be the case. So my preference is to not use the "snow and ice" transmission function, on the grippy ZZ3 tyres. The car is so controllable and precise anyway; it negates having the use of a snow and ice transmission mode. With a normal road tyre, on a steep slope I may be tempted to use it.. However the near perfect automatic gearbox with smooth power feed in; seems to makes this snow & ice mode feature redundant.

On my previous 1989 series 1 Citroen XM, a previous owner had put oversized 225, road tyres on (with a cheap brand!, (never buy cheap brand tyres is my advice)).

These oversized tyres, had to be run at a slightly lower pressure in order not to foul the car body. (Too much pressure equates to too much bulge in the side wall; which fouled the body). With these "wrong" tyres you can get the back end to step out and oversteer.

Fortunately when this happens the Citroen (every time) steps out to (it seems) around up to 45 degrees maximum, and then just steps back in smoothly. No zig-zagging and no flipping it out to the other side with over correction.

Just a smooth seemless drift out, and pull in. The point I am making is that if ever the Citroen did let go (exceptionally unlikely, but good to know for snow/ice), you still have an *easily* controllable drifting car; that tucks its back end in nicely. The long wheelbase helps in that arena too. Short cars are twitchier.

When working out the adjusted air pressure to run the low profile wheels and tyres (215 45 R 17) compared a normal road tyre; a section of tight s shaped tight bends were used in the New Forest.

More air pressure is required in low profile tyres; to counteract the reduced tyre height absorption flex range. On the S shaped tight curves and bends that I use maximum obtainable speed is around 40 mph. The original setting of 2.5 bar, around 36 psi, for the standard road tyres is too low. It produces that "snow plough turn-scrubbing" sound and feel; indicating too low a pressure. The tyres maximum allowed PSI setting of 44 psi for the front was therefore set, for comparison. The back wheels pressure was naturally increased in proportion; and the S bends were driven again.

This produced the light front end "dancing" feel as if one is running over intermittent ball-bearings; with constant light end adjustment needed; a twitchy car. One has to be more precise; as its more demanding to control, on (too) higher pressure settings. One can see why manufacturers tend to set tyre pressures slightly too low; as it gives the driver a quicker earlier and more audible warning that you are approaching and then exceeding the cars traction limit.

These S shaped bends at this pressure setting obviously displayed and indicated a too higher pressure setting..

When I corrected and brought into line the "light" front end 'dancing', the skittishness was instantly then transferred to the back wheels; requiring more steering corrections. This confirmed the PSI proportion was set "pro rata" and was "in balance".

Interestingly however the top speed obtained around the S bends was exactly the same as before with the lower pressure settings. Just different handling characteristics.

With all of this experimentation taken into consideration; an intermediate pressure setting mid way between these two values was ascribed , that is 40 psi front (on these sized low profile tyres); and pro rata in proportion 31-32 psi rear. This was found by accuracy and actual experimenting. So use these pressures on (this model) of Citroen XM for low profile tyres (215 45 R17 in this instance). These are definitely the pressures to use for low profile tyres.


Why do Citroen use hydropneumatics and nitrogen gas? They adapt and adjust to all conditions, weights, and height. The gas/fluid interface provides uniform damping over all variables; whereas a spring or torsion bar is just tuned and set up to work properly at one "average" height; load and weight.

With Citroen hydropneumatics, you have this feel and light touch:-
https://www.youtube.com/watch?v=Ra76A7Dw_eU

and also get this stability:-

https://www.youtube.com/watch?v=YhuEoX_y0qY

Which evolved to reach a climax in these series 2 Citroen XM's (& some Xantias):-

Two paragraphs Beneath is link to Tiff Needell on the Citroen XM:- Note this clip shows the early series 1 Citroen XM without the much better suspension set up found on the series 2's:-

On the series 2 XM there are extra 'central axle' spheres, coupled with further suspension modifications. More anti dive and sink. and it detects fluid transfer with lateral forces in cornering and locks out sideways roll. So the handling in series two Citroen XM's is of much better order of magnitude than the series one XM shown in this clip with Tiff Needell from around 1989-1990.

https://www.youtube.com/watch?v=2DN9Rbs8V88


I also have to drive along a beach regularly (mixture of soft sand to shingle), and these tyres take this large car over it very well; big footprint. These tyres , on this car, actually produce respectable off road traction performance. Coupled with the completely smooth automatic gearbox's torque convertor; this really helps in this environment.


This top of the range Citroen XM, with the leather seats (more comfortable than the earlier softer fabric seats) is, without doubt, the most comfortable car that I have ever driven. It is more comfortable, by far, than all of the other Citroens. The original Citroen DS, the CX, the BX etc. I have owned all of those other models; and so am in a position to compare. Having leather seats also come into their own when I jump out the sea after swimming, or sailing. Fabric seats would mop the water up.

The seat architecture is just right for long distances on these high end models. You feel as fresh after a long journey, as if its a local journey. How many vehicles can you say that about?

The climate control; cruise control, and electrically heated seats are a useful addition to the comfort. I personally prefer to have natural ventilation most of the time, and only really use the climate control in winter. I only ever have used the heated seats in the really cold sub zero weather; or as I do triathlons and sea swimming all year around, when I climb out of the water in winter for the trip home.

The seats are all electrically operated with switches, even the adjustable from arm rest is electrically adjusted into the most comfortable position.

The balance and poise of this model of Citroen XM means you are often travelling far faster than people think. I often used to say to my passengers "How fast do you think we are going?". When I got a reply I asked them to glance across and look at the speedometer. We were nearly always going two to three times faster than they thought. That shows quality engineering surely.

Space is brilliant. I used to have a boat, and all the gear, rudder, sails, outboard etc would go in the large boot.My XL mountain bike on 26" wheels with the quick release front wheel removed, even fits across the back seat.

You get two back windows, (two back windows doubled up).
One integral within the hatchback bootlid of the car (the 'normal' exterior main back window like other cars have), but also an independent secondary one underneath this.
This means that when the boot is open for loading/unloading; the car cabin itself is protected from rain/outside air temperature.

This secondary boot-window can be set to rise in tandem with the normal back window on boot opening; or to stay down. Useful for skiing, swimming, sailing etc when the boot is being used as a work or kit area; as the car cabin is isolated/independent.

This shows the forward thinking of Citroen in the past. Genius.

Economy:- (engine size 2946cc)

On a run of a well balanced combination of all road types (from the south coast to the Midlands and back on twisty country lanes and B roads, some winding A roads and about 20% of the journey on very high speed dual carriageway), the car returns 27.6mpg to 28.2 mpg. I believe on my previous 1989 Citroen XM series 1 (2975cc V6) 12 valve, manual transmission 30-32mpg and upwards was sometimes possible.

On shorter journeys the series 2 XM averages around 22-25 mpg.

If on very short town journeys or country lanes, in cold weather expect around 18 mpg. Maybe even 16 mpg if you like to use your power.

This car has never broken down or left me stranded, in my eight years and 32,000 miles under my ownership. I have never even had to replace the exhaust. Total car lifetime mileage so far around 102,000. (My last Citroen XM had 180,000 miles on it. After three separate attempted thefts, leaving smashed windows and wires hanging out, I scrapped it to get this one)

Listed below are all of the faults that I have experienced in eight years of use. The car is 16 years old now. It is important to realise that this later series 2 Citroen XM has no electrical faults and everything works on it.

(1) A hairline crack in a hydraulic 4 way union, that allowed some LHM fluid to drip-drop out. The car was 12 years old then. (easy fix as it is on bottom of the engine bay and access is easy). Maybe I bashed it driving on the beach that gave it a hairline crack?

(2) A rubber hose (the smaller one) for the engine cooling water developed a pin- prick hole/split. Resulting in a cloud of steam (only at high engine temperatures). Again easy replacement.

(3) Right hand handbrake cable snapped when the car was 14 years old.

(4) Two of the cars electric window regulators needed replacing.

(5) A rubber low pressure hydraulic return pipe needed changing (as a few drips of hydraulic fluid could be seen emerging when the cars suspension was raised/then lowered). Easy to put on, under the wheelarch.

(6) The rear number plate light needed replacing when the car was 10 years old. It failed the MOT on that alone.

(7) The climate control (blower fans) have stopped about four times in eight years. This is due to the fuse not quite being able to cope with the current load, and the fuse body partially melts. Simple to fix, just put a new fuse in. I always carry a few spares.

(8) The car is now 16 years old, and the dot-matrix displays telling you the outside temperature, mpg, cd track number etc, have partially faded. A know problem when the cars get old. But you don't need them.

(9) One of the earthing bloc needs a tap (and/or a little tug on the wire leading to the battery around it) about once or twice a year when it does not start.

If your XM ever does not start; don't worry! In the eight years I have owned this XM, or the 11 years I have owned other Citroen XM's it has only ever been a little tap at an appropriate place under the bonnet. Don't worry, and don't call someone out until you have done that. Top tip; leave the ignition key on; and when you tap the right wire/component you can hear the electric circuits 'go live' and wake up ;-) . Then go and start it!

Many people think it is just the relays (which indeed they sometimes can be); but infact it is in fact mostly the main earthing wire leading into the battery itself (that needs tweaking/compressing) or sometimes the earthing bloc/the wires on the inner wing itself. On my series 1 Citroen XM I had prior to this; I though it was indeed 'just' the relays- as tapping them or warming them up rectified this. But looking back upon what I know now, it may have been both the relays and earthing bloc sometimes. By tapping the relays I was sometimes transferring a jolt to the battery wire; which was enough to "wake it up".

If things still fail, take the relays off and put them in your pocket, or on a radiator and warm them up for a while. Simple solutions!


(10) In October 2014 I welded two little patches (one on each side around three to four inches long) at the rear of the sills. In this area only (on the whole of the car) they just started to go. I do welding when the atmosphere is dry, so less humid air is locked into the sills.

(11) I have replaced the spheres, as some of the nitrogen gas escaped over time. This is a natural diffusion process over time, and eventually replacing these spheres on (hydropneumatic) Citroens is a standard service thing to do; usually between every 5-8 years from my experience using *genuine* Citroen spheres. So this isnt really a breakage or fault, but more a standard service addition every so often.

The process is really, more or less, the same process as changing an oil filter.However you have one at each wheel (and three others if one counts the accumulator and two central axle spheres on the later series 2 Citroen XM's)

NB cheap non Citroen spheres do not last as long, and are often a false economy. I have run genuine Citroen spheres, and non Citroen spheres over the same time period. The non Citroen spheres hardened up two years ago; the Citroen ones are still fine.

Also there is a fault on Citroen UK's computer. They have mixed the bar pressures up for Citroen XM spheres with front and back for this car. Make sure you know what bar pressure sphere you should be buying if ordering from Citroen; because their computer has mixed up the information for my car. Citroen didn't notice that, I did. I have informed them, but doubt they have corrected the computer.

(12) I replaced the windscreen due to a stone crack, from a stone thrown up by a passing car. (not really a car design failure)

(13) Replaced brake pads.

Now I believe I should get around to replacing the front discs, and possibly the back too in order to change all at the same time.


Apart from standard service items (oil, LHM, brake pads etc) that is everything the car has needed from 2007-2015. I would say that has to be considered reliable.
All of these things listed that I have done to the car, any semi-competent, semi mechanically, minded teenager could have sorted out, at home with tools.No specialist garage equipment needed.

I may upload a photograph of it sometime. It is 16 years old now and looks virtually like it is brand new.

The last of the "real" Citroens.


Upsides
; Speed, Power, Handling, Comfort, Size (and curiously off road ability for a large car). Safety (lots of airbags). My Citroen XM is 16 years old and *every* component and electrical component works on it; from heated seats to rear demisters to the sunroof. (although two window regulators have been replaced).

Downsides are the same!
Speed & Power reflects in economy.
Size (harder to park in town). If I lived in London or a town/city with tight parking , then I would probably not have this car.

Everything (mechanical/electrical) works on this 16 year old (in 2015) car.I have just lost some"dots" from the digital "dot" display for outside air temperature/mpg and cd number etc). My previous series one, Citroen XM did have a heater circuit board failure however. Found a replacement for £10 in 2006. It is the series 1 Citroen XM's that had a few electrical failings it seems, not the series 2's.

Economy is between 18-28 mpg; but for a 2.9 litre 24 valve V6 that perhaps is reasonable? I know many other cars with similar sized engines and power produce a much lower mpg figure.

Before I owned this particular Citroen XM, I owned a 1989 Citroen XM (also a 3 litre V6) manual 12 valve series one. The range on that was 525 miles achieved travelling around UK and Ireland.

The range on this 24 valve automatic Citroen XM is between 330-400 miles.I may once have got 440 miles on it, but I cant remember if that was this car, or my previous series one Citroen XM. Whatever it is, you are lucky if you can get 400 miles from a tank of fuel on this car, with the V6 24 valve engine.

Tank size is listed at 80 litres, but you can get quite a few more litres more in. Obviously the diesels with smaller engines would go further on range; if diesel is your thing. Personally, as I often road run, cycle, I dislike diesel cars; and I consider them to be not so socially acceptable. Why? Because with my road running and road cycling even modern "clean(er)" diesels leave you gasping for breath (different emissions/particulates) when they pass by. Petrol engines don't seem to give one the choking/breathless symptoms; if your lungs are operating a peak capacity road running or cycling.

So back to the fuel economy; that is what doubling your engine valves does; coupled with an automatic (all be it very good) transmission: You get lots more power, at the expense of economy. As an average comparison a 360-400 mile range on the 24 valve automatic car;compares to 525 miles on the 12 valve manual. Whilst the achieved best miles per gallon figures are not too dissimilar, over a tank it translates into a 160 +/- mile range difference.

Approximately on like for like (touring) driving conditions, the comparison range on one tank on the V6 3 litre XM is 525 miles for the 1989 12 valve series 1 manual transmission, to 400 miles for the 1999 series 2 24 valve automatic.

So the 12 valve manual transmission goes nearly one third the distance again as the 24 valve automatic.

My XM suggestion is to go for the more user friendly series 2 automatics with the V6 engines. The Citroen XM's parking brake is not a handbrake; but a *foot* operated parking brake; coupled with a dashboard mounted *hand* release.

This means on manual cars you have to operate four pedals and also a parking brake hand lever release (on the dashboard).
Sometimes all four pedals, and the hand release lever have to be operated all at the same time , or in very rapid succession; during an uphill stop/start manoeuvre. You have to think in advance.

At least on the automatic cars you have only three pedals to juggle (the third pedal being the parking brake). Or do what I often do in all automatics/semi automatics; and that is to use the left foot on the brake pedal, and right foot on the throttle; and balance them; and that bypasses the need to use the parking brake for uphill starts.

Yes I would recommend these cars to people; unless you were looking for a really economic car (this version is made for power and not economy). If you live in a city with tight parking, this car is a bit too large to have.

However I would only recommend it to people who have some knowledge on the science of Citroen, and people that know what a relay and an earthing block is.

By knowing what a relay is and an earthing bloc you will know what to do if ever your car does not start, or the cruise control does not work! You tap your earthing bloc once or twice a year/& give the input wire a small tug-, when the car will not start! (Because that is all that you need to do).

Similarly all the relays are lined up behind the headlights for easy quick access. If an electrical component does not work, always tap the relays first, because that is what it usually always is.

With the exception of my low profile wheels and tyres, (and not counting car road tax, insurance, and petrol) I think I have only spend around £525 on it in eight years; and that includes my £70 excess for a new windscreen; and the purchase of a top quality Varta battery. Because I rotate my tyres for even wear, I have only had to buy one tyre in 32,000 miles.

I think these are smart cars to own.

What did Citroen miss out on? I don't think any panoramic sunroof ones were made, or convertible ones like the historic Citroen DS. However when this car was designed and first built in 1989 I don't think panoramic sun roofs for cars were invented. My XM's have just had a regular slide under/& lift electrically operated sunroof. A four wheel drive version would not have gone a miss either; with all that power and plenty of traction from the 2WD versions; I am sure a 4WD version could have been a winner. I was using a 2WD Citroen XM to take my boat up a beach (not a slip way); whilst others were using Landrovers.

Citroen patented their suspension to Rolls Royce and some Range Rovers; and Citroen hydraulic suspension is a popular (if not that common) conversion on some land rovers. (Clips on you tube). Not having a 4WD version was one that Citroen missed with this car.

Would I have the confidence to set off and drive around the world in it, this very moment as it is? Definitely Yes.


These cars can be hidden gems; and are often overlooked. With the youngest being 15-16 years old now; it's a shame you didn't grab one in the 1990's or last decade.

A Citroen and other car buying top-tip.
Only buy one with quality tyres fitted only is my advice. Eg Michelin. Generally speaking people that put on cheap tyres, often have no care for the way a car handles, and also tend to apply other cost cutting measures too, like not servicing the car as it should be either.

So the type of tyre fitted is often the first giveaway hint, and usually a very good indicator of the general condition of the car.

The Citroen XM is a real semi-historic Citroen after all, from a company that has put cars all over the world; & to me it is re-assuring that this particular car was "Made in France" after all.
reviewed by lowflyingpilot on 27 April 2015
reviewed by Spanner on 14 February 2013
Write your review
Just reviewed...