Sealey launches lightweight battery-free jump starter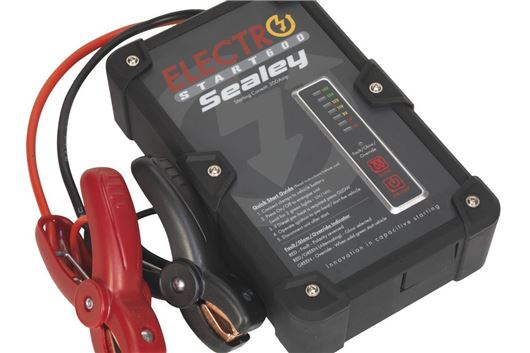 Published 22 January 2016
Sealey's has launched a new lightweight battery-less jump starter, priced at just under £180.
The new 12 volt E/Start600 is different to the existing crop of jump starters because it doesn't have a battery inside.
Instead, it uses ultracapacitors to maximise a discharged battery's voltage. It's clever design means that it needs just five volts to jump start a vehicle.
All you have to do is connect it to the struggling battery on the car. It reads the battery's existing voltage and then charges itself ready for action.
After two minutes, its ready to push full power back through the starting system and get your vehicle going again.
The new ElectroStart delivers 300A of starting power –that's enough to get a 3.0-litre petrol (or a 2.0-litre diesel) engine turning.
If the worst happens and the car's battery has less than five volts, then just connect it to a 12 volt battery from another vehicle, or charge it with one of the supplied leads from the mains.
No battery, means that the unit weighs in at just 1.4kg and is small enough to fit in your glovebox.
It also promises a maintenance-free life cycle of ten years. And, best of all, it doesn't have to kept fully charged up to be ready to use.
Comments
Author

Keith Moody
Latest