Skoda Estelle 105S in Friday's 'Flipping Bangers'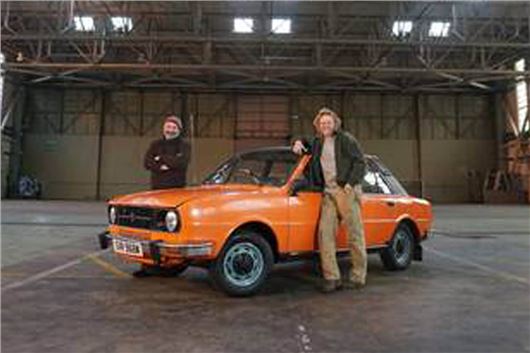 Published 29 May 2019
How does anyone make money from buying a Skoda Estelle to re-sell? 
After all those old jokes about 'skips' and a rumour that Skodas used to be assembled by convicted criminals, you'd have thought the chaps would have known better.
Yet, after having won one for buttons from an eccentric collector in an eBay auction, this is the dilemma that faces Will Trickett and Gus Gregory in Friday's 'Flipping Bangers'.
The theme of the show is finding an unloved old car, bringing it back to life, applying a few tricks to make it more attractive and then attempting to double the investment.
The challenge comes from starting an online auction immediately the car arrives in the workshop to get it gone in 5 days time.
It won't run on the old petrol in the tank, so the entire fuel system needs flushing. Then, to pass its MoT, one or two other jobs crop up.
But the biggest problem is how to add enough value to persuade someone to pay them a profit on it.
Will comes up with a new twist on the old 'vinyl roof' idea and Gus locates a garage that has a stock of rare spares.
The 10-part series features transformations of classic cars from the VW Beetle to the Suzuki SJ. A BMW Z3 also gets bought and flipped.
Watch the show at 9.00pm on Fridays at BLAZE on Freeview 63, Freesat 162, Sky 565 and Virgin Media 216.
Comments
Author

Honest John
Latest