First female workshop apprentice joins the National Motor Museum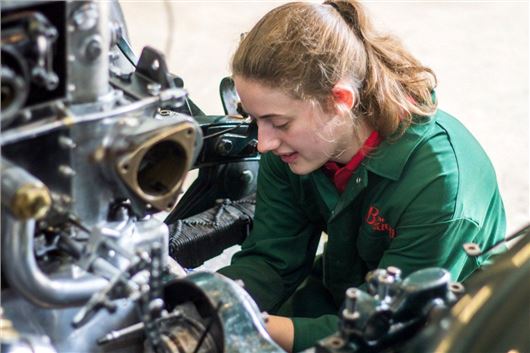 Published 20 September 2017
The National Motor Museum at Beaulieu has appointed a female workshop apprentice for the first time in its history. Emily Leese, 18, joins the museum's experienced team to help maintain and restore its collection of more than 250 historic vehicles.
The move will hopefully inspire other young female mechanics – and also help keep alive the essential skills needed to look after and preserve the museum's machines. She will also be the first apprentice to complete her training since museum manager Doug Hill finished his training at Beaulieu 40 years ago.
Classic car fanatic Emily has been a volunteer at the National Motor Museum since the age of 14. Her four-year apprenticeship is being funded by a small group of benefactors known as the Beaulieu One Hundred club.
Emily's training will be overseen by apprenticeship provider Heritage Skills Academy, which specialises in enabling trainees to work towards industry-standard qualifications.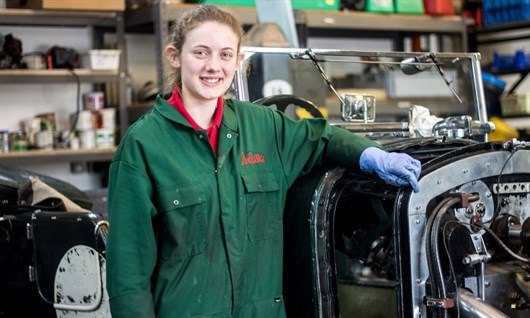 Spending most of her time in the museum workshop, Emily will gain vital hands-on experience. But she will also study the skills of the trade with Rolls-Royce and Bentley specialist P&A Wood in Essex as she works towards Level 2 and 3 Diplomas in Classic Vehicle Restoration.
Funding for this block release part of her training will be covered by the Automotive Apprentice Bursary while Draper Tools has donated a comprehensive tool kit and chest.
Doug Hill, National Motor Museum manager and chief engineer, said, 'Ever since Emily first visited us for work experience four years ago, I have been impressed by her enthusiasm and determination. I was the last apprentice to complete my training here at the National Motor Museum 40 years ago, so it makes me exceptionally proud to offer this opportunity to a new recruit by employing Emily as our apprentice in the workshop.
By assisting the museum's five-strong team of engineers, Emily will get the chance to work on a wide range of vehicles - veteran cars, classic racers, luxury limousines, vintage motorcycles, Land Speed Record-breakers and even the famous Beaulieu Monorail.
Emily said, 'It's good fun being in the workshop and getting involved. I think I fit in quite well so far and all of the guys have been really good. They're a welcoming bunch, so I definitely feel like part of the team and I'm really enjoying working here.
'Recently, I helped to re-fit the engine to our 1930 'Blower' Bentley, helping to steady the engine and to line everything up.
After spending all day working on old machinery, Emily drives home in her own modern classic, a Rover 100 – the later incarnation of the successful Austin Metro.
'It's one of my favourite cars,' she says. 'My mum had one when I was about five or six and I really liked hers, while my grandparents had two Metros. I really wanted a classic as my first car and I found this one for sale on the internet. It's really cute and I just fell in love with it. I've not had to do anything to it yet, although a hole in the exhaust will need sorting out soon.'
You can follow Emily's story by reading her blog. The first post is a question and answer feature: www.beaulieu.co.uk/news/. 
Comments
Author

Keith Moody
Latest