Replica Alan Partridge Rover 800 for sale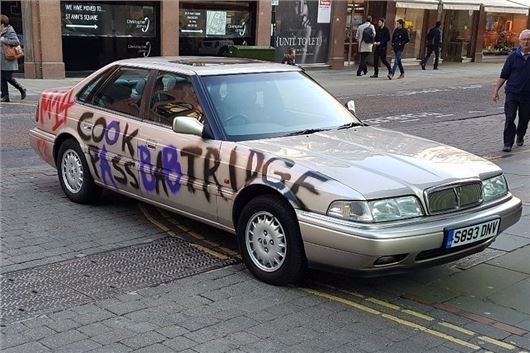 Published 07 June 2017
A replica of the Rover 800 that appeared in the TV series I'm Alan Partridge is up for sale on an internet auction site. The car was used to help promote the new book Alan Partridge: Nomad in Manchester in October 2016.
Although the gold P-reg 825 that appeared in the series is thought to have been scrapped, the S-reg replica is currently for sale on eBay at £1160. The graffiti is actually a wrap and so is easy enough to remove from the five-door automatic. 
With 86,000 miles on the clock, the seller says it drives smoothly and has a good service history. The car is fitted with air-conditioning and has electric front windows (although one of the switches needs replacing).
Played by comedian Steve Coogan, Alan Partridge parodied various television personalities and was renowned for being tactless and inept. On the day Partridge was due to meet BBC commissioning editor Tony Hayers, 'sub-human scum' covered the big Rover in offensive grafitti.
Luckily, Geordie handyman Michael was able to alter the expletives to read 'Cook pass Babtridge.' Partridge would eventually have to downgrade to a Rover 214Si after his pitch for a second series was turned down.
The car's current owner, Matt Ford, said the original plan was to use the car to help launch a paperback version of the new book. But when that didn't happen, he decided to offer it for sale, hoping a fan of the show would pick it up.
Comments
Author

Keith Moody
Latest