1972 Toyota Crown Custom returned to the road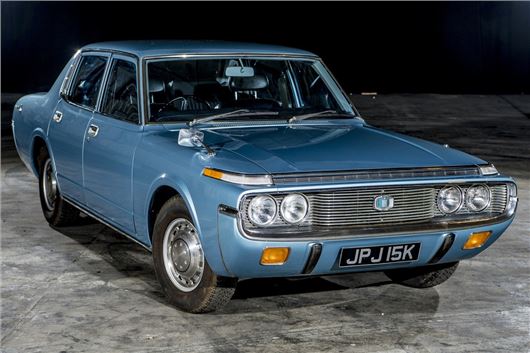 Published 20 February 2017
The last time Nick Garrick sat in the back of this 1972 Toyota Crown he was 12 years old and his grandparents, Percy and Ethel Cole, were in the front seats.
Nick recalls that the Toyota was something of a spontaneous purchase for his grandfather, Percy. Dissatisfied with a similar model from a British manufacturer, Mr. Cole saw the futuristic-looking Crown in the window of his local Toyota dealer in Ewhurst, Surrey, and immediately arranged a part-exchange deal.
The fourth-generation Toyota Crown was delivered on 1 February, 1972, and went on to enjoy a pampered life worthy of a royal. Always dry-stored when not in use, it rarely ventured far from the family farm in nearby Dunsfold and was rarely pushed beyond a leisurely 30mph. Indeed, Mr. Cole kept the dealership's running-in sticker in the rear window as a visible excuse for driving slowly.
Mr. Cole had an infectious enthusiasm for his Crown, a passion inherited from his father who owned the previous generation model – and one he passed on to his son. Percy Junior stored and maintained this Crown for more than a decade after his father's death. Not long after the turn of the century, however, the car was left in the family's storage facility and remained there untouched until October 2016.
After it had spent more than 25 years in a sedentary state, the Cole family finally decided to try and recommission the Crown in preparation for sale. It was resuscitated and taken to a nearby garage for an MoT test. It failed on a handful of minor points, none of which the family was keen to spend too much money rectifying. So the Crown was parked in the garage lot while they decided what to do with it.
That's when classic vehicle enthusiast Robin Shepherd saw the car. He was on his usual commute when he spotted the Crown within a stone's throw of his workplace.
Stunned by its looks and recognising that it's not every day you see one of these models, he stopped off to learn more. After discovering that the Crown was potentially for sale, Robin snapped it up for a fair price and became its proud new owner.
Minor issues such as blown bulbs, binding rear drum brakes and a small hole in the original exhaust system were fixed. And soon enougn the Crown was road legal again. Ready to cruise serenely around the Surrey Hills – with the running-in sticker still displayed as an excuse for driving slowly.
Comments
Author

Keith Moody
Latest