Video: £20m worth of classics take to London's streets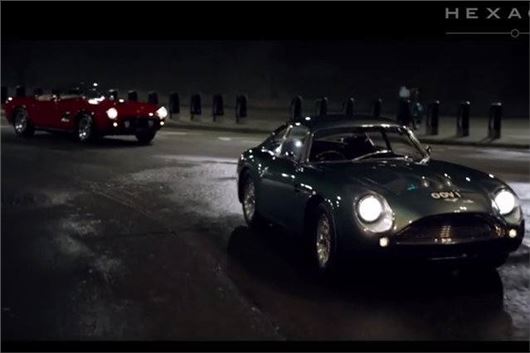 Published 05 February 2016
London classic car dealer Hexagon has produced a short film featuring more than £20m-worth of classics… that appear to be driving themselves.
Called Icons of the Road, the film marks the opening of a new flagship showroom. It features appearances from an Aston Martin DB4 GT Zagato Sanction III, an ex-Sir Stirling Moss DB4 GT Lightweight, a Ferrari 250 GT California Spider, a Porsche 356 Speedster plus a Series 1 Jaguar E-type Roadster and many more.
Shot on location in London over several nights, the star cars drive themselves around the city, cruising past famous landmarks and gathering astonished looks from drivers at traffic lights. The story finishes with the cars coming together at Hexagon's new north London home.
All of the on-screen classics were provided by Hexagon, while state-of-the-art post-production techniques were employed to painstakingly remove the drivers, so that the cars appear to be moving by themselves.
Building work has already begun on the new flagship showroom in Great North Road, East Finchley. Called 'The Hexagon', it has space for 40 classic cars and modern classics.
The Hexagon also boasts a restaurant headed up by a Michelin-starred chef, a coffee bar, a modern art gallery and a men's retail store. The aim is to create a destination for all – not just car enthusiasts.
Hexagon chairman Paul Michaels said, 'We commissioned Icons of the Road because we wanted to celebrate classic cars in a way that no-one has done before. The film is all about the cars – not who is driving them. It's an amusing story about how cars relate to each other, which we hope everyone can enjoy.'
Comments
Author

Keith Moody
Latest