New lease of life for Dad's Army van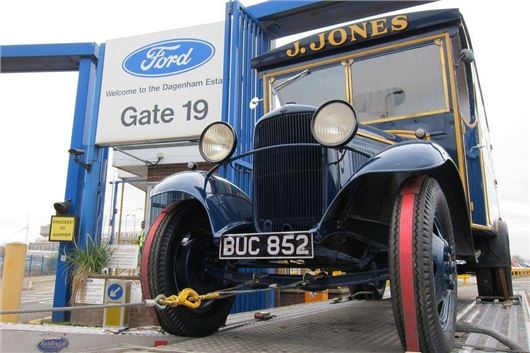 Published 05 February 2016
A 1935 Ford BB van that featured in legendary sitcom Dad's Army as Corporal Jones's van has been given a new lease of life as a film based on the series hits the big screen.
A group of Dagenham-based Ford apprentices worked with the company's heritage vehicle technicians to repair the running gear of Jack Jones's famous van - in the same building that it would have left the plant from more than 80 years ago.
The original Dad's Army television series ran from 1968 to 1977, and BUC 852 made its screen debut on 11 September, 1969, in the first colour episode.
This month it appears in the big-screen version of Dad's Army with stars including Sir Tom Courtenay, Toby Jones, Bill Nighy, Catherine Zeta-Jones and Sir Michael Gambon.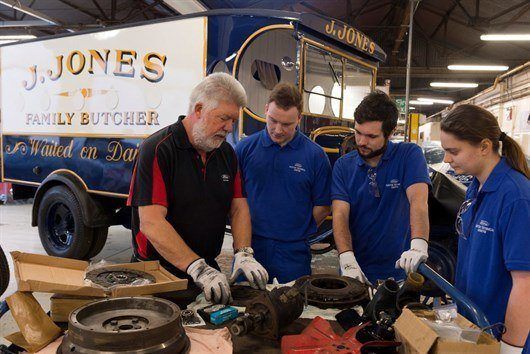 The van, which belonged to local butcher and home guardsman Jack Jones, is known for its role as a support vehicle for the Walmington-on-Sea branch of the Home Guard. It is now owned by the Dad's Army Museum in Thetford, Norfolk.
Although it has undertaken extensive cosmetic restoration, Ford, together with a team of its apprentices, was tasked with returning it to operational duty. This included a full engine rebuild, replacement clutch, and new wiring loom.
The Ford BB truck was among the first commercial vehicles produced at the Ford Dagenham site, which started production in 1931. The mechanical repairs were carried out in one of Dagenham's original buildings, which remains in use today as Ford's heritage workshop.
Stuart Wright, from the Dad's Army Museum in Thetford, said, 'This vehicle has a special place in British entertainment history, and is enjoyed by the many visitors to the Dad's Army museum.
'It's fantastic to see the van operational again and we hope it will capture the imagination of the younger visitors less familiar with Dad's Army, as well as triggering happy memories for the older generations.'
Comments
Author

Keith Moody
Latest