1972 SAAB 96 Returned to Dealer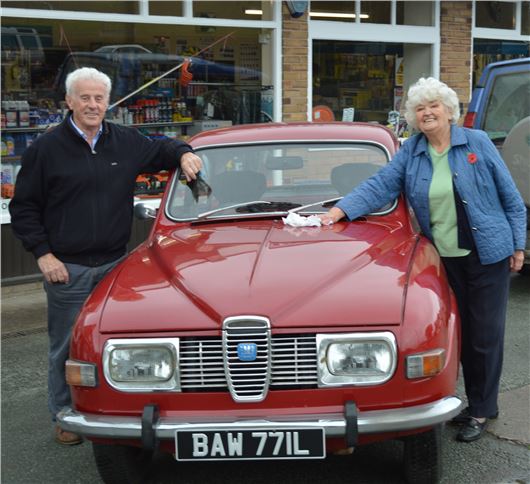 Published 12 November 2015
A retired Shropshire garage owner has been reunited with a car he sold when new 43 years ago and now seeks to put together its history of owners since.
His son, James Edwards Jnr, director of Westbury Garage in Shrewsbury, had seen that a 1972 SAAB 96 was being sold by Richard Edmonds Auctions of Chippenham in October. He realised from the number plate the car had originally been registered in Salop but had no idea that his father John Edwards Snr had sold the car when new until he drove it home to Shrewsbury.
Mr Edwards Snr, 81, who retired from running the garage in 1996, was amazed to see the red SAAB (which he originally sold for £1,023) return to the forecourt. Mr Edwards had liked that particular car so much back in 1972 that he had photographed it and hung its picture in the garage for many years.
Also reunited with the car was 86-year-old Doris Williams from Westbury, Shropshire, who had worked in the garage and washed the car in 1972 while it waited to be sold. James Jnr tracked down the original paperwork for the sale in the garage's archives, which bore his late grandmother's handwriting.
The younger James said: "I was amazed to discover Dad had sold the car all that time ago. I knew there was a local connection, but had no idea it was such a strong one!"
Auctioneer Richard Edmonds, who sold the car in October, said: "When James told us the story about the car and his father, we were blown away. I feel like we've played matchmaker in this story, which is wonderful for us and our team.
James Jnr intends to use the car and display it in Westbury Garage. He's also asking for anyone who has owned the car – BAW 77IL – to get in touch as he is researching the car's history after his father first sold it. He can be contacted at Westbury Garage, Featherbed Lane, Shrewsbury on 01743 441445 or by email at info@westburyonline.co.uk.  The garage is now an all-makes service centre.
Comments
Author

Honest John
Latest