Erik Carlsson: 1929 - 2015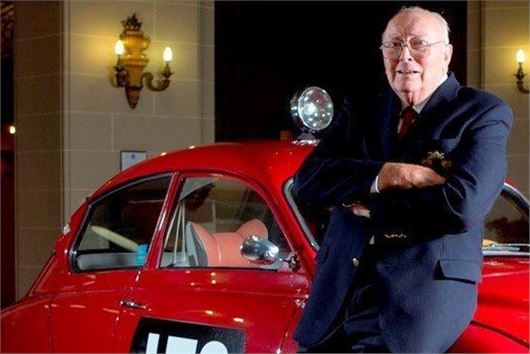 Published 28 May 2015
Swedish rally legend Erik Carlsson has passed away at the age of 86. Carlsson, affectionately known as Mr Saab, achieved worldwide fame behind the wheel of Saab's two-stroke 96, and went on to become a life-long ambassador for the company, attending just about every new-model launch in later years.
Carlsson won no fewer than twelve international rallies for Saab between 1955 and 1970, a tally that included three consecutive wins in the RAC Rallies of 1960-62, plus outright victory in the Rally Monte Carlo in both 1962 and '63.
It was Carlsson's style of driving as much as his many successes for which he'll be best remembered, having perfected the art of left-foot braking – largely as a result of his Saab's lack of power. By keeping his right foot firmly planted to the floor and the Saab's three-cylinder engine on full power, he'd brake with his left foot to control the car and keep it firmly planted in the bends.
Born in Trollhattan, the home of Saab, Carlsson felt an affinity with the company even as a young man, which explains why his very first car was a secondhand Saab 92. His inaugural rally saw him suffer a problem with its lights, resulting in the Saab leaving the road and crashing through a hedge. Amazingly though, Carlsson and co-driver Sten Helm fixed the lights, re-entered the rally and ended up with a class win.
Carlsson went on to achieve more early victories, attracting the attention of Saab in the process. By 1955 he was employed as an official test driver for the company and made a name for himself by winning the 1000 Lakes Rally of 1957. The entire world suddenly knew the name Erik Carlsson, who went on to marry rally heroine Pat Moss in 1963.
Erik and Pat subsequently wrote a book together entitled 'The Art and Technique of Driving', in which they explained about his left-foot braking. But Carlsson also attracted headlines in his heyday for refusing to use snow chains on any of his cars, claiming that they'd simply slow down the low-powered Saab and become more of a hindrance than a help. His instinct, as always, was correct and he enjoyed many successes in winter rallies throughout the '60s.
Carlsson will also be remembered for his gentlemanly ways, even when under pressure. In the 1962 RAC Rally, for example, his Saab 96 suffered a broken support arm at the rear, which threatened to ruin the event for him. Erik spotted a privately owned 96 parked with nobody in it, and promptly stopped, jacked the car up, took the required part and left a note under the wiper. The couple who owned the Saab in question subsequently became friends with Erik and Pat, with Christmas cards exchanged from then on.
The world of rallying has lost another of its heroes – and a true gentleman in every sense.
Comments
Author

Paul Guinness
Latest