Wheeler Dealer Restoration Book Out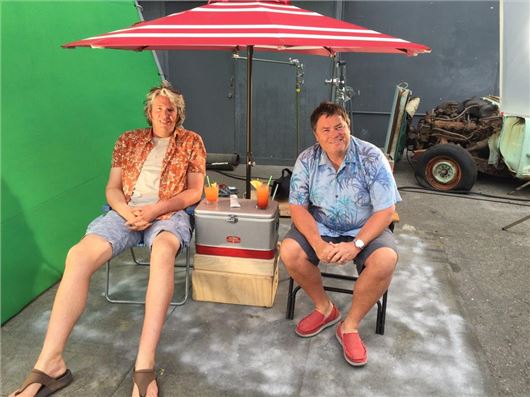 Published 02 March 2015
Haynes has launched a book of the top ten Wheeler Dealer restorations, written by our regular contributor, Chris Randall. 
Entitled the "Haynes Wheeler Dealers Car Restoration Manual' it covers all the hints and tips from Mike Brewer and Edd China during the restoration of ten cars, from an Austin Mini to a Jaguar E-Type.
First airing of the Wheeler Dealers show was in 2003 on the Discovery Channel following the buying, restoring and re-selling of classic cars "hopefully for a profit" and has provides the inspiration for enthusiasts around the world to try to emulate the challenge. 
The first of a twelfth series of 'Wheeler Dealers' premiers on Monday 23rd March.
Chris Randal's 'Wheeler Dealers Car Restoration Manual' goes behind the scenes to reflect on 10 of the most popular car restorations from the first 12 years of the show, with numerous photographic sequences of the jobs carried out and additional insight from Mike and Edd into the buying, restoration and selling of each of the 10 cars featured.
With more than 100 restorations under their expanding belts, picking their favourites was no easy task, but Mike & Edd used their usual determination to hammer out their top five:
1.  Austin Mini
Mike Brewer says: "The Mini is definitely one of my all-time favourite classics, and is just such good fun to drive. If you want a small classic that'll be easy to work on, this is definitely the car for you; and there's a great owners' scene too, so you'll never be stuck for help or advice."
Edd China says: "The Mini is the perfect car to learn about restoration skills. Not only is just about every part available but there's plenty of opportunity to undertake a few modifications and perhaps improve the performance, as it's a car that responds really well to tuning. The other great thing is that most parts are really cheap, so restoring one won't break the bank."
2.  Jaguar E-Type
Edd says: "The E-Type is an amazing car, and although I haven't always been sold on the looks I must admit that working on one changed my mind. They are complex, though, and the thought of carrying out major work can be daunting. But having had one in the workshop, I can really appreciate the engineering that went into them, and it's easy to see why so many people love them."
Mike says: "You're not going to be surprised to hear that I rate the E-Type as an absolute classic car icon. It's a gorgeous machine and I'm just as much a fan of them now as I was when I first saw one as a kid, so for me it was a car that we just had to have on Wheeler Dealers. If ever there was a car that needs expert advice before you take the plunge, this is it, and I was really happy to find the Series 3 car that we featured. My plan was always to keep it absolutely original and just concentrate on a proper restoration, as I knew that was where the profit lay."
3.  Peugeot 205 GTI
Mike says: "I've always been a huge fan of the hot hatchback, and I bought and sold plenty back in my trading days. And I reckon the 205 GTI was one of the very best, especially if you go for the 1.9-litre version like we did. That engine is just so punchy, and in such a light car it's a fantastic way to get down a B-road. Rising prices mean there is real investment potential here and you'll absolutely love it."
Edd says: "If I'm honest I'd probably say that I prefer the Golf GTI as a hot hatch, but it's easy to see why the Peugeot 205 GTI is so popular. The 1.9-litre engine is a great unit, and it's robust if you look after it properly. The 205 isn't too hard to work on either. As a technical exercise Peugeot got the GTI spot on, and – typical of French cars – there are some clever design touches."
4.  Mazda MX-5
Edd says: "The MX-5 was in a real state, and sorting the hood and interior took absolutely hours. All in all this one definitely needed some hard work putting in. Having said that, they are quite easy cars to work on, and things like the bolt-on front wings make some of the jobs easier. There are loads of aftermarket parts available, and as long as you stick to good quality parts they usually bolt straight on without the need for any fettling."
Mike says: "There's no doubt about it, the original MX-5 is an absolutely cracking little convertible, and if you're looking for some cheap fun, this is the car to be looking at. There are so many around that you won't have trouble finding a good one, and as long as it's not suffering from rot or been abused it should be cheap to run as well.
5.  Porsche 911 (993)
Mike says: "To be honest, I was really shocked at the condition of the 911 – I don't think I'd ever seen one as abused as this. But we really wanted to get another one on the show, and to find a 993 for this sort of money was amazing. Both of us loved it, and as soon as I took it for a test drive I knew this was the one. I think I said it on the show, but sometimes you just get a feel about a car that needs rescuing, and this Porsche was one of those."
Edd says: "Although the 993 was really poor cosmetically, the biggest job to do was fixing the Varioram system. Porsche's official method is to remove the engine, but that's a major task on one of these, which is why I wanted to see whether it could be done with the engine in place. Luckily this one worked out, although it still took a good few hours, and it needed a really methodical approach, with all the vacuum pipes involved."
The full list of the ten cars featured in the manual is as follows:
As well as these five, the manual covers:
Lamborghini Urraco S
Land Rover Discovery
Subaru Impreza WRX
Amphicar
Willys MB Jeep
Author, Chris Randall is a freelance motoring journalist, regularly contributing to magazines and websites such as Car Mechanics, Classic Car Weekly, Total 911, and Honestjohn.co.uk amongst others. He has also written three Haynes car manuals, and collaborated with Mike Brewer on his book The Wheeler Dealer Know How. He lives in London.
More and to order online at Haynes
Comments
Author

Honest John
Latest