Hunt is on to find owner of abandoned Chevy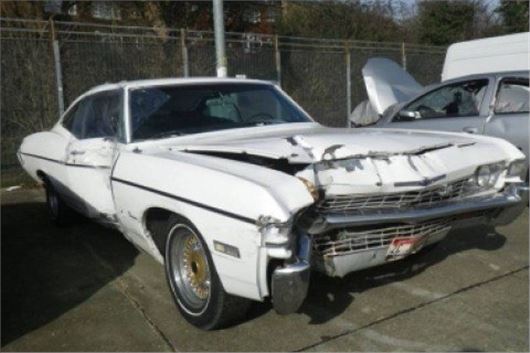 Published 10 March 2015
Police in Sutton, Surrey, are making a final attempt to trace the owner of a white Chevrolet Impala SuperSport to save the vehicle from being scrapped.
The 1969 car was taken to a police compound after it was recovered on Tuesday, 17 February. The vehicle has accident damage to its front and side.
Police believe the vehicle may have been stolen and used by joy-riders. The vehicle has an Idaho, USA, registration plate of 2CJM614.
PC Jamie Stone, of Sutton Police Station, said, 'All enquiries to find the owner have proved fruitless to date. Unless we find the owner, this classic American car faces being turned into soup cans, which breaks my heart a little.'
He said the vehicle may have been kept in a lock-up and the owner may not yet be aware that it has been taken. 'This is the only opportunity we have to try and re-unite it with its owner before it gets destroyed,' he said.
The owner has until Friday, 20 March, to come forward when the mandatory retention period for the disposal of this abandoned vehicle - under the vehicle disposal regulation - is due to expire.
If you are the owner (or know the owner) of this vehicle then please contact Sutton Police on 101 quoting reference number 4001824/15. To claim the vehicle, the owner will need to produce a number of documents to prove entitlement to the vehicle.
Comments
Author

Keith Moody
Latest