US customs crushes 'illegal' classic Mini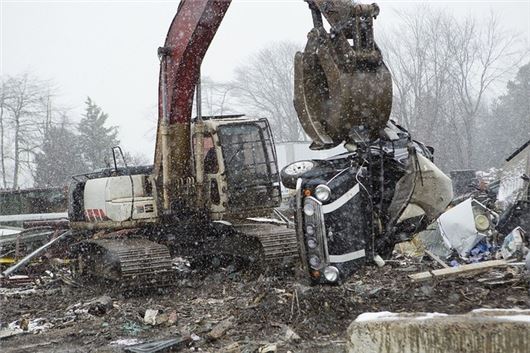 Published 15 December 2014
A late-model Mini Cooper has been crushed by US customs officers after it was discovered to be illegally imported and unsafe.
The car is just one of dozens of vehicles intercepted at ports across the US aimed at getting 'illegal' vehicles off the roads. In the US, cars that are under 25 years old and do not have an airbag are banned.
That means a 1988 Mini Cooper with an airbag is legal in the US, while a 1990 model is not.
But because the design changed so little, there is a lucrative black market in the US for importers who can ship a car in and lie about its age, often by changing the VIN number.
In the case of the Mini, which is thought to be a 2000-year model, border police spotted the car and discovered its VIN number had been altered to make it appear older than it was.
It was destroyed at a scrap yard in New Jersery on Thursday, 11 December.
The move is part of an operation between the US and the UK that targets suspect imported vehicles, specifically Minis and Land Rover Defenders.
'Intercepting illegal and unsafe imports is a top priority for CBP,' said Brenda Smith, US Customs Border Protection's assistant commissioner for International Trade.
'Through Operation Atlantic, we are stopping illegally imported, unsafe vehicles from driving on our roadways, and at the same time, partnering with our colleagues in the UK to stop this criminal activity at its source.'
Suspect vehicles claim to be over 25 years old, but may be newer, illegally reconfigured vehicles –  or even reconstructed from stolen vehicle parts.
The vehicle identification numbers (VIN) have been fraudulently altered. These fraudulent actions attempt to use a loophole in the law that allows older vehicles to be imported without restriction.
Comments
Author

Keith Moody
Latest