Unique 1000 Mile Trial archive unearthed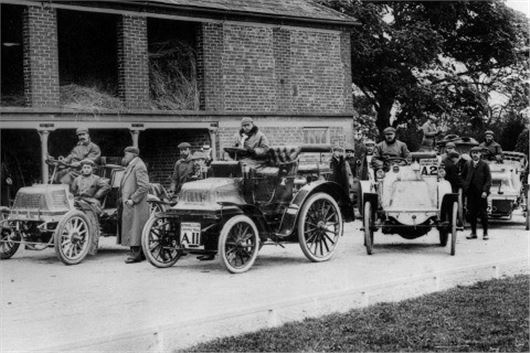 Published 28 November 2014
A photo album documenting the 1000 Mile Trial of 1900 – a landmark moment in motoring history – has been acquired by the National Motor Museum at Beaulieu.
The event saw vintage motor cars driving from London to Edinburgh and back and was captured by the event's official photographer, Albert Argent Archer. It was a one-off event that helped to change people's negative preconceptions about motor cars at the turn of the century.
But as well as being an important part of motoring and social history, it also has a very important place at the heart of National Motor Museum, which the current Lord Montagu founded as a tribute to his father, John.
It was John Montague who was one of the great pioneers of motoring in the United Kingdom. He was the first person to drive a motor car in to the yard of the Houses of Parliament, and was the first person to introduce King Edward VII to motoring during the 1890s. And it was John Montagu who took part in the 1000 Mile Trial.
The collection of photos, which was purchased at the Bonhams London to Brighton sale on 31 October for £4375, depicts John Montagu taking part in the event with his 1899 Daimler 12hp. The Daimler has since been restored and can be seen at the museum.
Generous donations from Beaulieu One Hundred members – and elite club of the great and good of the motoring word - helped to make the purchase possible, following an urgent appeal just days before the album went under the hammer.
Taking place at a time when few motorists would have attempted to drive more than 100 miles in a day, the 1000 Mile Trial tested not only the stamina of the drivers and mechanics, but also the reliability of their cars. It followed a route that incorporated many of Britain's landmark cities – taking the motor car to the people.
Argent Archer was appointed official photographer of the 1000 Mile Trial by its organisers, the Automobile Club of Great Britain and Ireland. His photographs of the event provide a fascinating and invaluable insight into this era of motoring, overcoming the obstacles of transporting delicate photographic equipment on the rough and dusty highways.
John Montagu was awarded a bronze medal for his participation in the event and was one of only 35 of the original 65 entrants to finish.
The album will be archived within the Museum collection and once digitised copies of the prints will be available to purchase online at www.motoringpicturelibrary.com.
Comments
Author

Keith Moody
Latest