Leaded petrol now available in drums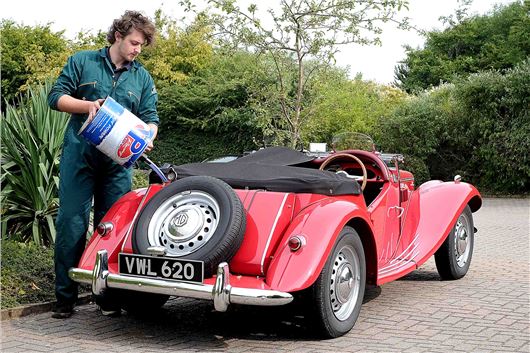 Published 02 September 2014
Classic enthusiasts can now buy their own drum of leaded (and unleaded) petrol to keep in their garage – but it isn't cheap.
British Motor Heritage is now selling drums of 100 octane four- and five-star directly to hobbyists, which works out at £3.57 per litre.
The move comes after increasing concerns about the availability of classic-friendly fuel – and the amount of ethanol in petrol at the pumps and its effect on the engines and fuel systems of older cars.
Ever since leaded fuel was withdrawn from sale in 2000, motorists have struggled to find petrol that keeps their classic happy.
That's because modern fuels have a slightly lower octane rating, which means you may have to adjust your car's timing to avoid pinking.
The loss of lead also means that valve seat recession can occur, unless an additive is used or hardened valve seats fitted.
But ever since the Government signed up to an EU directive in 2012, oil companies have been obliged to dilute fuel with environmentally friendly alternatives.
Currently, ethanol is being used and it's estimated that it makes up around five per cent per litre of standard fuel (fewer in high octane fuels).
Now BMH is selling both leaded fuel and ethanol-free petrol, supplied by American company VP Racing Fuels.
Available in US gallon drums of five (18.93 litres) or 54 (204.41 litres), it can be delivered directly to your door or you can collect it from VP's UK outlet in St Helens, Merseyside.
Rated at 100 octane, the five-gallon drum costs £67.50 or £3.57 per litre (including fuel duty) plus delivery.
Good for up to two years, BMH says it is responding to a demand for both leaded fuel and ethanol-free petrol.
John Yea, managing director, said 'Though we aimed to calm readers' views on ethanol through the advice of one of Europe's major fuel suppliers, the resulting correspondence made it clear that some owners would only relax if they could return to using a completely ethanol-free product.
'Now they can, thanks to the option of VP Vintage Unleaded and VP Vintage Leaded.'
Comments
Author

Keith Moody
Latest