Microcar values continue to soar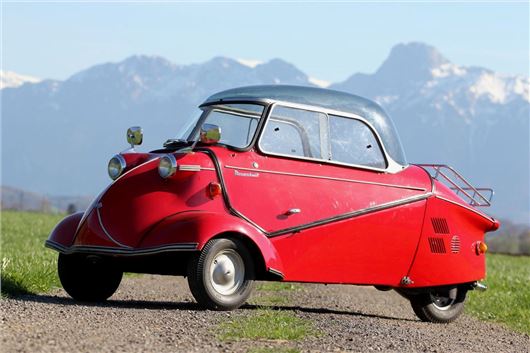 Published 07 July 2014
Paul Guinness, Contributor
The smallest classic cars on our roads have been experiencing some of the biggest increases in values over the last few years – and that trend looks set to continue, as demand for the very best classic microcars still outstrips supply.
In the last week alone, Honest John Classics has spotted a restored (but not currently MoT'd) Isetta 'bubble car' at £11,000, and a recently re-commissioned Messerschmitt KR200 at just shy of £20,000. Expensive? In fact, each of these represents good value compared with the asking prices of other examples.
Some recent selling prices have been far higher. Only last year, the auction of American microcar fan Bruce Weiner's collection saw a 1959 Messerschmitt KR200 Sport going for $80,000, while a humble Peel P50 fetched an astonishing $105,000.
Owning a microcar isn't for everyone, although the appeal of something that's compact enough to be stored in a large shed has increased – as has the cars' overall 'trendiness'. But which of the traditional three-wheeled microcars now offer the best value?
The Isetta, Heinkel and Trojan 'bubble cars' tend to command asking prices of £10,000 to £15,000, with restoration projects sometimes available for less than £5000 depending on their state of disrepair. But the iconic Messerschmitt KR200 is in a higher league, with a project car likely to set you back £6000 to £10,000 and a full-restored example as much as £25,000.
For real value though, it's worth looking at some of Britain's own microcars, with the front-wheel drive Bond Minicar being relatively cheap at £4000 to £5000 for an excellent example. Rarer alternatives include models like the Frisky, Allard Clipper, Peel P50, AC Petite and various Berkeleys.
From that particular list we'd recommend the Berkeley T60, a sporty little number with a single rear wheel and a 328cc two-cylinder motor – yours for £4000 to £5000 if you can find one for sale in excellent condition.
If you've recently invested in a classic microcar of your own, tell us about it – and why you bought it. 
Comments
Author

Paul Guinness
Latest