High prices for classic registrations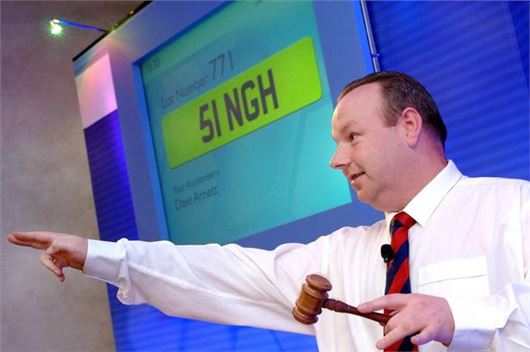 Published 13 December 2013
Personalised registrations have attracted very strong bidding at a last week's DVLA Number plates Auction in Warrington, with a matching pair of classic car numbers heading the list at a rather impressive price.
The big news from the sale was that the registration CO11 EEN went to a retired businessman from Kent, who travelled to the auction at Park Hall hotel in Warrington, paying a total of £39,850. He bought the 'plate for his partner of 10 years.
However, classic 'plates made all the bidding, too, with the second highest price at the sale was £29,500 for 21 O, while 8888 BB was the third highest, selling for £22,812. It was part of a pair of 'numbers - 8888 B and 8888 BB - combining for a total of £43,500.
Other notable classic 'plates, according to www.carreg.co.uk, were 130 SS (BOSS?), which made £17,100 on the hammer at the auction, while AST9N made a surprisingly modest £6100.
Other 'plate related news includes DVLA's decision to withdraw a number of '14' registrations for new car buyers, citing them for being potentially offensive. The marks ending 14 RSE, 14 NAL, 14 NUS won't be available for fairly obvious reasons. Despite this, it's expected that the 14 series would be more popular than the 'unlucky for some' 13 plates with more than 5000 being sold on the release day alone.
More information at www.carreg.co.uk
Comments
Author

Keith Adams
Latest