Ian Callum's special Jaguar Mk2 takes shape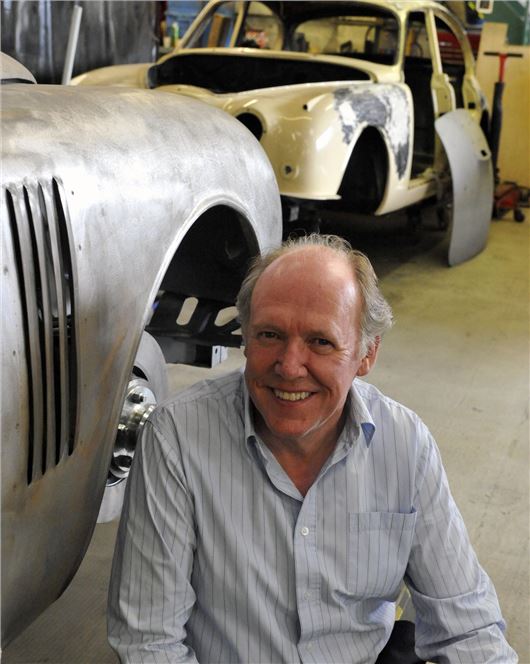 Published 11 July 2013
Jaguar's Design Director Ian Callum has commissioned Classic Motor Cars (CMC) to create his vision of the perfect Mk2. The build, which started earlier in 2013, is approaching completion, and Callum has been to visit the restoration specialists based in Bridgnorth for a quick look at his car, due to be revealed later this year.
The project was launched in March 2011. The design specifications of the car were formulated by Callum and a hand-picked team at CMC, and some fundamental engineering changes are being made to the 1960s original. According to Callum, this will be the first classic Jaguar he's ever owned and he looks forward, and the Mk2 is a car that he's greatly admired since he was a child.
When the Mk2 is finished, it will be redesigned both aesthetically and technically, with the stance of the vehicle being the first item Callum will address. After that, the team will simplify the car on the outside while the interior will receive some subtle changes as well. And we're looking forward to seeing it.
Commenting on the build so far Callum said: 'This car is a very personal statement of my thoughts on the Mk2. I have retained the integrity of the car, a shape I have admired for so long, but there will be a number of visual modifications.'
The car which is being built by Classic Motor Cars (CMC) in Bridgnorth, Shropshire is being put together by a hand picked team of specialists and is due to be finished in six months time.
'This is a project that we are not rushing,' said Nick Goldthorp, Managing Director of CMC, 'There has been a very specific design brief from Ian, and we are following that in great detail. Clearly we have to interpret the design changes to the car in minute detail, otherwise the changes that Ian is making will not work.'
Callum admitted that getting the balance right had been a challenge as to what should stay and what should be omitted from the original. He added: 'I have sketched out in great detail each subtle design change, and then worked with digital medium on my computer to resolve the finished surfaces.'
For more information please visit www.classic-motor-cars.co.uk
Comments
Author

Keith Adams
Latest