Tribute to racer Mike Hawthorn set for Race Retro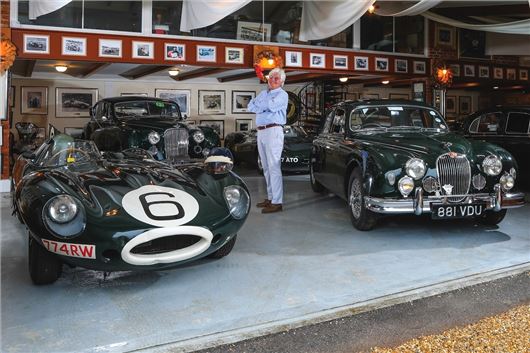 Published 03 January 2019
Cars and memorabilia from the career of legendary driver Mike Hawthorn will be one of the stars of this year's Race Retro event. Hawthorn, who was the UK's first Formula One World Champion, died 60 years in a road traffic accident. Now his career will be celebrated at Race Retro, which takes place at Stoneleigh Park, Warwickshire, on 22-24 February.
Born in in Yorkshire in April 1929, Hawthorn's father owned the Tourist Trophy Garage in Farnham, Surrey. Hawthorn won his first single-seater race in 1952 and would go on to drive for some of the greatest names in the sport, including Ferrari, BRM, and Vanwall.
Hawthorn died on January 22, 1959, when the Jaguar 3.4 saloon he was driving left the road near Guildford in Surrey.
'Mike Hawthorn's contribution to the world of motor sport should never be forgotten.' says acting show director, Lee Masters. 'The epitome of the English gentleman and a fantastically competitive racer, that 60 years have passed since his death makes this tribute all the more special.'
The display lined-up at Race Retro promises a unique collection of Mike Hawthorn's cars and personal racing memorabilia. Surely the most exciting for enthusiasts will be the D-type Jaguar that renowned collector, Nigel Webb, re-built using the chassis from the 1955 Le Mans winning car. It even features the original registration number.
Also on show will be the Lotus Eleven that Hawthorn raced in period, and the cars will be accompanied by a wonderful array of memorabilia including a selection of the driver's gold medals, a steering wheel from one of his Ferrari Formula One cars, and plenty more.
Hawthorn was behind the wheel of one of Enzo's fabled racers when, in 1958, he became the first British driver to win the Formula One World Championship. He pipped another great driver, Stirling Moss, to the title by a single point and then immediately retired from the sport.
Tickets are now on sale for Race Retro, powered by Motor Sport, held from February 22-24 2019 at Stoneleigh Park, Warwickshire, with free parking for all visitors. For the latest updates and ticket information, visit www.raceretro.com.
Race Retro
Comments
Author

Keith Moody
Latest