Report: Peking to Paris, day one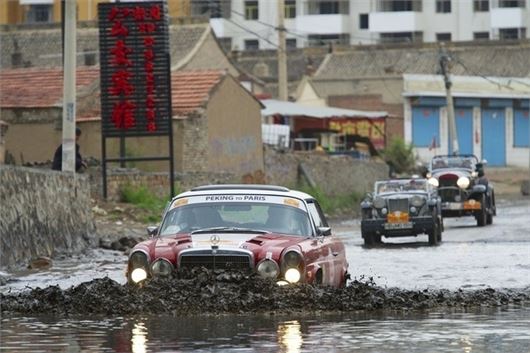 Published 28 May 2013
Beijing to Daihai
The fabulously ambitious Peking to Paris endurance rally challenge kicked off in style today, and we'll be following the event on a daily basis, offering news and personal accounts as the teams undertake the gruelling 7500-mile event organised by the Enurance Rally Association.
The good news is that all of the teams seem to be well-prepared for the challenge. They needed to be. As the 96 cars set off from the Great Wall of China, sent on their way by Chinese dragon dancers, five international TV crews, and a crowd of over 2000 well-wishers, the teams found themselves and their cars were thoroughly tested from the outset.
The first challenge of the day came in the shape of a 50m stretch of floodwater in a run-down village. It claimed two victims - the Dutch crew of Willem and Ellen Vermeulen in their Jaguar Mk1 3.4 needed a push through the water after their engine died. Fellow Jaguar drivers Daniel and Alexandra Spadini were less lucky, with engine taking in water, and leaving them with a pair of bent conrods. The engine still runs, and Daniel has already said that he, 'doesn't intend to give up.'
Oil pressure also proved a stumbling block for Aussies Paul Darrouzet and Ian Brown in their 1928 Packard Phaeton, but the sweeper mechanics came to their aid. Punctures, a wrong turning and a cracked windscreen were also some of the opening day woes suffered by the drivers.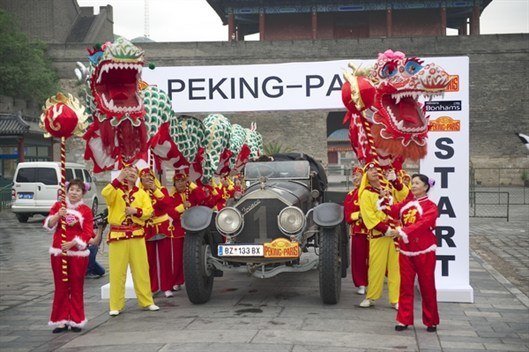 This is not what you'd expect on day one of a month-long event, and bodes well for an interesting rally - from a spectator's standpoint. But the Citroen DS23 (below) from Australians Bob Sherrard and Peter Washington glided over the rough stuff, and just hoisted up its Hydropneumatic suspension to sail through the floodwater.
The car that won the 1974 World Cup Rally across the Sahara in the hands of Jim Reddiex and Ken Tubman made light work of the day's challenges. So too did previous Classic category winner Gerry Crown and Matt Bryson, also from Australia, in their 1973 V8 Leyland P76.
Many of the pre-war Vintageants looked particularly impressive, the drive of Mani Dubbs and Robi Huber in a 1932 Rockne Six 750 looked effortless as its suspension took command through the torture of giant crater-like potholes.
Stay tuned for more updates, we'll keep you posted on a daily basis. For more information on the Peking to Paris Rally or to follow  the organiser's blog, visit www.endurorally.com.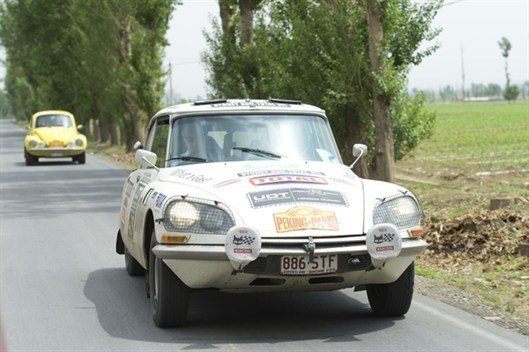 Comments
Author

Keith Adams
Latest