Report: Peking to Paris, day five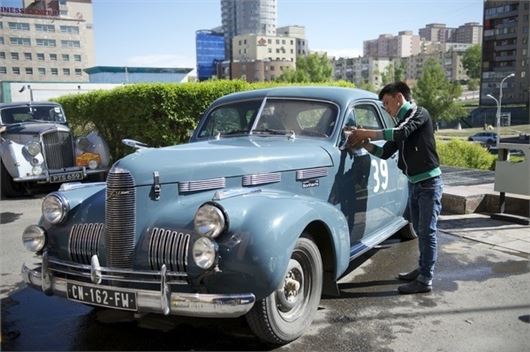 Published 02 June 2013
Ulaan Bataar - Rest Day
Retirements and lead changes are the big news on what is supposed to be rest day on the Peking to Paris Motor Challenge 2013.
It's a rest day for the rally crews, but to walk around the car park you wouldn't know it. The Sweep Teams of mechanics are not getting any rest, as the car park looks like a battlefield with bits and pieces spread everywhere.
Some of the cars that hit trouble yesterday have made it and will be fit to go again tomorrow. Take the Mercury Park Lane, for example, this unlikely rallycar, with its enormous overhangs front and back – the large boot is full – yesterday was stopped with gearbox issues and driver Jan Pettersson thought his rally was over, and wanted to order up a truck.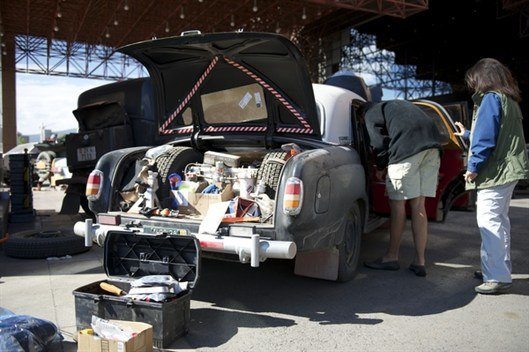 Owen Turner came along and soon fettled the gearbox and today the only problem he has is that the ignition key refuses to turn, the lock is full of sand. Nearly 20 cars have found their way across town to the Mercedes dealership. Here the bright, modern, spotless computerised workshop gives way to old fashioned ways, and cars that do old fashioned things, like drop axle oil everywhere.
Keith Ashworth is changing his springs, he has cut down some modern Mercedes ML springs and got them to fit, he is optimistic it will solve his problems, and the Ford Model T is here, the workshop has never seen a car so old before. A set of wheel-bearings have been found and Nicky Bailey is busy fettling his axles and wheels. A Porsche 911 is alongside a Bentley and a Ford Mustang.
It's a public holiday for National Children's Day and the capital city of Mongolia was virtually traffic free until midday meaning that most shops and workshops were closed early on, adding to the challenge, but by mid-afternoon the usual Ulaan Bataar grid-lock had resumed.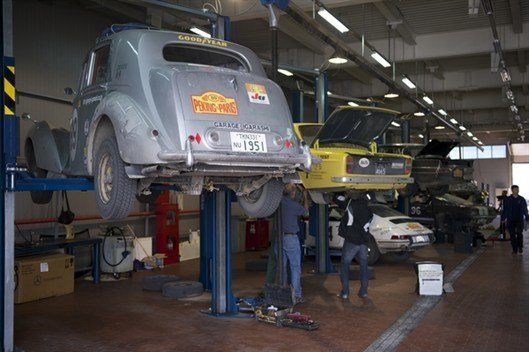 A lot of cars are heavily overladen. Some more than others, but most are running with far too much excess weight. One car, a pick-up truck, has not just far too many spares and far too many bags of clothes, it lugs along six chairs and a table in the back, along with a television set… and, how about this, a Jacuzzi!
There are some surprises in the results. The smallest car here is a tiny MG TC, 1200cc, ash-frame, stiff chassis with next to no suspension movement and just enough room for two tooth-brushes. It's 10th overall in the Vintageants.
In the Classic division, the little Renault 4 is far from last…. it's 34rd, and the Russians in the Moskvitch is parked up opposite the main doors to the hotel, and looks as fresh as it did in Beijing. A Rover 100 with two on their first ever rally is in the results, they were surprised to see that they are ahead of a Porsche 911.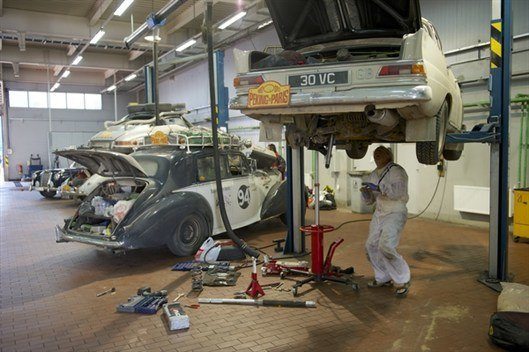 At the head of the classics, a real scrap is developing, the ex-World Cup Rally winning Citroen is just 17 seconds ahead of the Leyland P76, driven by Gerry Crown who won the Classics Category last time.
Tomorrow we head west, and then the route begins to turn north. The rally is venturing further north than ever before into the wildest region of Mongolia.
As the entrants left Ulaan Bataar, the organisers received the sad news that cars 5 and 9 are retiring due to mechancical problems – the crews are getting together to continue as far as they can in a car purchased here in Ulaan Bataar. The Vauxhall and Packard will be shipped home. Car 64, the Porsche 911 of Stan Gold and Brant Parsons, failed to repair the Porsche's composite material strut-tops at the Mercedes garage today. They have ordered fresh parts and are having the car trucked to Novosobrisk in Russia where they hope to rejoin the event.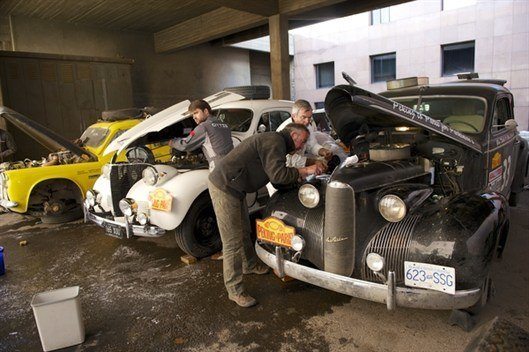 Comments
Author

Keith Adams
Latest