Report: Peking to Paris, day 11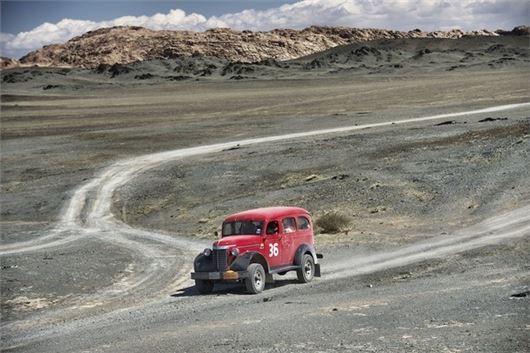 Published 08 June 2013
Uureg Lake to Border
Bob Sherrard's Citroen DS, which had been enjoying a spirited battle for the lead with Gerry Crown's Leyland P76 struck trouble today, and came into the camp tonight with its rear down to grass-height, the hydraulic suspension system has given up the fight.
Driver Bob Sherrard reckons his rally is over… he wants to limp it across the border into Russia in the hope spares can be found to solve the problem, if not, then it will be going home to Australia. This great old rally car had nothing left to prove and has performed remarkably well, in a closely-fought contest with Gerry Crown's Leyland P76.
The Citroen was built by Jim Reddiex for the 1974 World Cup Rally, and with former Australian rally-champion, Ken Tubman, and language-expert and sponsor Andre Welenski on the back seat, it romped across the Sahara desert and back again, after driving deep into Nigeria and then on to finish in Munich, winning the event. On the Peking to Paris, it stunned us all – the Citroen made light work of any of the tracks, and the worse they looked, the more the Citroen rose to the challenge, literally, as it hoisted up its skirts on its unique suspension to glide over the rocks and boulders. You will have to wait for the film of the event to see all this.
Bob summed up his rallly: 'It's done so well, but it's done enough. We had a door fall off today, down to rust. The car is highly original, even most of the stickers, and its failure is just an age thing. If only the Citroen was more simple!'
Gerry Crown was driving hard today – he spun the big V8 Leyland P76. He happens to own the ex-Evan Green P76 that also drove in the 1974 World Cup Rally, and is here with a replica.
The oldest car in the event, the 1913 Model T Ford, had one disaster after another yet still the crew keep turning up for dinner. Nicky Bailey said: 'We have broken the back axle, and an oil leak is making the fan-belt slip, so we have no cooling and no battery-charge…. yep, push-starts in the sand. Climbing the Mountain of Doom was done slowly as we had to top up the radiator several times, but, we fully took in the amazing scenery. All but two leaves broke on the front spring.'
Next stop, Russia - and a rest day.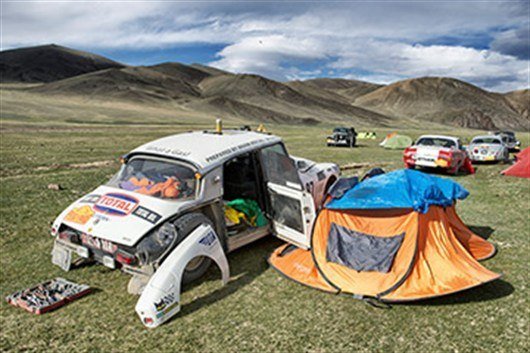 Comments
Author

Keith Adams
Latest