King Dick launches new heritage tool range at NEC show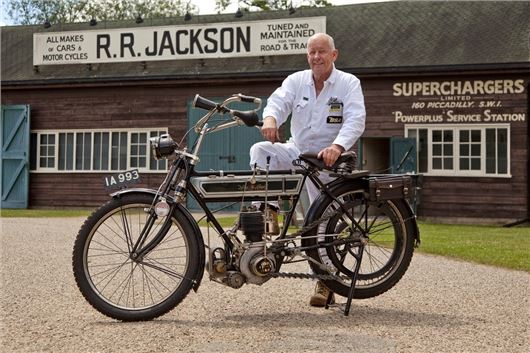 Published 17 October 2018
The Federation of British Historic Vehicle Clubs has joined with King Dick Tools to launch its new AKD Heritage Collection at the Lancaster Insurance Classic Motor Show, with Discovery.
Starting out as Abingdon Engineering and manufacturing a range of components and motorcycles, the company began making high quality tools. Adopting the 'King Dick' name - after the company owner's bulldog – it is the only remaining spanner manufacturer in the UK and has maintained proud links with Birmingham since 1856.
The Heritage Collection will be formally launched on the FBHVC stand in Hall 5 at 11.30am on Friday 9 November. With a design inspired by the original tools, they are produced using state-of-the-art materials and processes and feature a tough, chrome-molybdenum finish. Harking back to a time when prestigious cars of the 1950s and 1960s were equipped with King Dick tools, the new range will be a great addition to any toolbox.
As part of the launch, the FBHVC stand will showcase two motorcycles that were both made by Abingdon Engineering. The 1910 Kerry-Abingdon 3½ hp machine was amongst the first to feature a livery that celebrated the collaboration between the Abingdon Works and the East London Rubber Company. Following light restoration in 2005, the bike currently resides at the Brooklands Museum in Surrey.
The 1930 Abingdon King Dick Model 40 features a 300cc side-valve engine and is one of only two known to survive with this particular engine. First registered to the Viking Cycle Co. of Wolverhampton on 30 January 1930, it was discovered in a cellar in the West Country where it had been laid up since the beginning of World War Two. Now fully restored it is currently on display at the London Motorcycle Museum.
Both of these superb machines are owned by Bill Whiteley and he will be signing copies of his book - 'The Quest for King Dick' - on the FBHVC stand at 12 noon and 3pm on Friday 9 November.
To celebrate the launch of the AKD Heritage Collection visitors to the show can enter a competition for the chance to win an exclusive bespoke King Dick Toolkit prize. Entries can be made by visiting the website https://www.necclassicmotorshow.com/win-exclusive-classic-motor-show-toolbox and answering a simple question. The winner will be presented with the prize at the show. The closing date is Sunday 4 November
Visit King Dick and the FBHVC in Hall 5 of the Lancaster Insurance Classic Motor Show, with Discovery. For more information as well as all the ticket prices and booking details, visit www.necclassicmotorshow.com.
Comments
Author

Keith Moody
Latest