US reality TV star Jesse McClure set for NEC show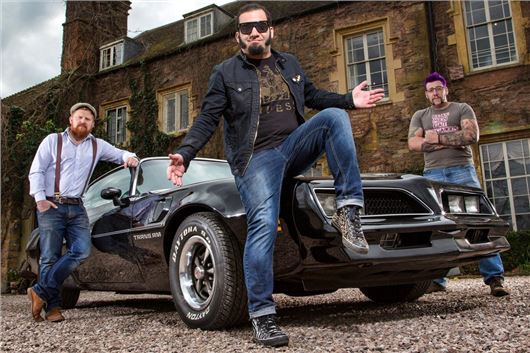 Published 28 September 2016
Jesse McClure, star of US reality show Storage Hunters and self-dubbed 'Resale King' will debut at this year's Lancaster Insurance Classic Motor Show with his 1978 black Pontiac Firebird named Lily. 
Jesse has been travelling the length and breadth of the UK for his brand new six-part series British Treasure, American Gold premiering on Quest every Wednesday at 8pm from 19 October.
He's been searching for antiques and collectibles, visiting stately homes, collectors' markets and even car boot sales on the hunt for typically British curios and valuable artefacts to send back to his family's antique business in Los Angeles.
Jesse will put $100k of his family's hard earned cash on the line as he hits the streets in search of the biggest and boldest bargains Britain has to offer before shipping them back to the US in an effort to turn a profit in the family's LA antique store.
From bone china vases to Elton John's gold plated sink, vintage one armed bandits, armoured military vehicles and Britney Spears's thong, British Treasure, American Gold focuses on the unique and unexpected side of British history, shining an American spotlight on the country's eclectic past.
Jesse shot to fame as the major breakout star from addictive US reality show Storage Hunters. Jesse is a larger than life personality whose laid back demeanour (not to mention his trademark sideburns and shades) masks an encyclopedic knowledge of even the most obscure goods' resale value.
Growing up in Canyon County, California, he was fascinated by the resale trade from an early age and worked for his family's antique mall. Jesse's cheeky Californian charisma made him a runaway hit with viewers, who love to see him play dirty and rub fellow Storage Hunters up the wrong way.
Not only will Jesse be appearing on the Live Stage with Discovery Channel but he'll also be signing autographs, taking selfies and raising money for charity by offering one lucky bidder a 'Dream Ride' as a passenger in his Pontiac each day with the Sporting Bears Motor Club.
British Treasure, American Gold will premiere every Wednesday at 8pm from 19th of October. Quest is available on Sky 144, Virgin 172, Freeview & YouView 37.
For more information on the Lancaster Insurance Classic Motor Show, features, displays, the various ticket prices and booking details, visit www.necclassicmotorshow.com.
Comments
Author

Keith Moody
Latest