19 'new' clubs set for NEC classic motor show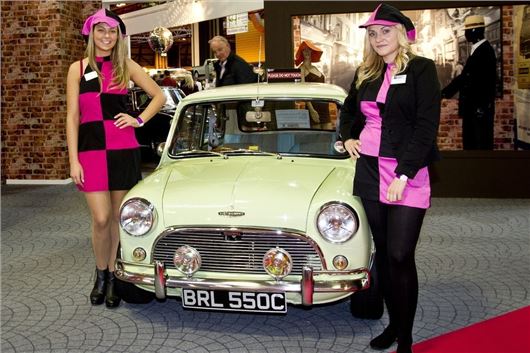 Published 09 July 2015
This year's NEC classic motor show will welcome 19 'new' clubs to the event. All of the clubs are either newcomers to the show or have been absent from the November show for a few years.
The clubs span classic and vintage car clubs as well as those dedicated to motorsport and younger classic car fans.
Show director Dan Nwaokolo said, 'One of the main aims of the club displays is to show the breadth and diversity of the classic community.
'We have been totally spoilt for choice and we're delighted to welcome these clubs to the 2015 event.'
The new clubs include TR Yoof, which is the youth register of the TR Drivers' Club. TR Yoof was established in 2010 to cater for younger members of the TR scene, and is now displaying separately to the main club stand.
Also at the show is the Toyota Enthusiasts' Club. Founded in 1991 as a non-profit organisation to promote the use and conservation of older Toyotas and Lexuses, the club welcomes owners of cars of any age.
MGs on Track will be displaying for the first time as a separate entity to the MG Car Club, which it is part or. Intended for those looking to have fun with road cars rather than stripped out racers, the group is voluntarily run to offer fun track days with fellow MG enthusiasts.
Also at the show will be the British Historic Kart Club and – tying into this year's show theme 'She's a Beauty' – the British Women Racing Drivers' Club.
New local clubs at the November show include the Black Country Classic Car Club and the Celtic Old Vehicle Owners Club.
The 2015 Lancaster Insurance Classic Motor Show will be held 13-15 November with tickets now on sale. For more visit www.necclassicmotorshow.com.
Full list of new or returning clubs.
Association of Rootes Car Clubs & The Rootes Archive Centre
Dellow Register
Black Country Classic Car Club
British Historic Kart Club
Celtic Old Vehicle Owners Club
Dunsfold Collection
Ford MkIV Zephyr & Zodiac Owners Club
MGs on Track (MGCC)
Model T Ford Register of Great Britain
Old Skool Ford
Pre 50 American Auto Club
RollHard Club
The Association of Healy Owners Club
Toyota Enthusiasts Club
The British Women Racing Drivers' Club
Vauxhall Opel Drivers Club
The Morgan Three Wheeler Club Ltd
TR Register Youth Group
Vauxhall VX4/90 Drivers' Club
Comments
Author

Keith Moody
Latest