Ex-RAF Land Rover to get show debut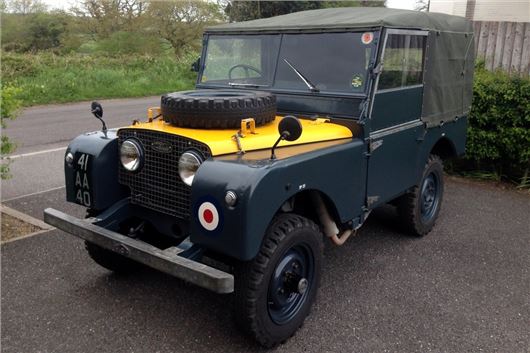 Published 10 May 2018
A former RAF Land Rover will go on display for the very first time since it was uncovered in a barn. The 80-inch 1952 Series I will be on show at the new Land Rover Legends event later this month at Bicester Heritage.
Discovered in a Gloucestershire barn where it had been laid-up since 1979, the vehicle is subject to a 'rolling' restoration. Much of the vehicle's original paint was stripped off, obliterating any reference to the car's history. The finish attempts to replicate an RAF glider tow vehicle.
Unlike army examples, early records of ex-RAF Land Rovers have been lost in time, so detailed information of allocations within the RAF from 1952 right up to the early 1960s are unknown, making an accurate restoration a tough task.
To get it back on the road, the rear body section had to be removed while the running gear needed overhauling and repairing. The car also has the correct 1997cc 'siamese two-litre' engine fitted. The rebuilt gearbox is a military replacement. And a stainless petrol tank is now fitted, along with correct pattern side screens and doors.
The incorrect 'lights through the grill' is believed to be an ex-Military of Defence replacement. The rear floor is 'absent' so it can accommodate towing gliders with combined cadet forces.
The display comes in a special year for the RAF, as it celebrates its centenary. And it's especially poignant given the location of the Land Rover Legends show – Bicester Heritage was a former RAF base. Neglected for 40 years, it was added to Historic England's 'at risk' register and has since been transformed into a classic car hub.
Tickets for the 26-27 May event are available now, for more information visit:www.landroverlegends.com.
Comments
Author

Keith Moody
Latest