Beast of Turin returns to Chateau Impney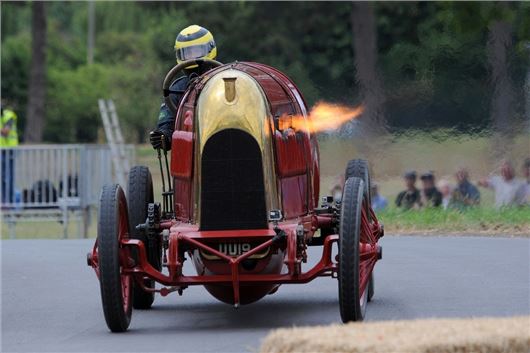 Published 30 June 2016
The Fiat S76, better known as the Beast of Turin, will return to the Chateau Impney Hill Climb on 9 and 10 July.
Competing as part of the hotly anticipated Edwardian and Veteran Cars class, the Beast is set to steal the spotlight once again alongside the likes of the De Dietrich, Darracq and steam car 'Whistling Billy'.
One of the most impressive pre-First World War racing cars ever built, the Fiat S76 was painstakingly researched and restored to its former glory over the last decade by Bristol-based Duncan Pittaway and a team of enthusiasts.
Only two S76s were built by Fiat over the winter of 1910 and 1911 and the restored car is an amalgamation of them both. The rolling chassis originates from the earlier car, which set a new world flying mile record of 116mph at Saltburn Sands, Yorkshire in 1911, while the engine comes from the second car, the rest of which was scrapped by Fiat after the First World War.
Both cars would have been completely lost to history had Pittaway not begun his quest to track down the surviving remains, recovering the number one chassis from Australia and bringing it back to the UK in 2002.
The decade-long restoration has been no mean feat as three major parts of the car – the gearbox, body and radiator – all had to be meticulously recreated referencing original Fiat drawings and period photographs. Once completed, the Beast made a demonstration appearance at the Goodwood Festival of Speed before heading to Chateau Impney to take on its first competition challenge.
Taking place in the stunning parkland setting of Chateau Impney in Droitwich on 9 and 10 July, the Chateau Impney Hill Climb will see 200 pre-1967 cars race against the clock to claim victory on one of the UK's most challenging hill climb courses. As well as the opportunity to see a wealth of motorsport action, the event will also include a comprehensive Concours d'Elegance, spectacular air displays and a major classic car auction, hosted by specialist auctioneers H&H Classics.
Tickets for 2016's event are priced from £20 per person, and under-16s will be admitted free with a ticket-holding adult. An early bird discount of 10% is available for advance purchases before 31 May 2016. Tickets can be purchased online at www.chateauimpneyhillclimb.com or by calling 0845 017 0637.
Comments
Author

Keith Moody
Latest