See 400 classics on track at Donington Historic Festival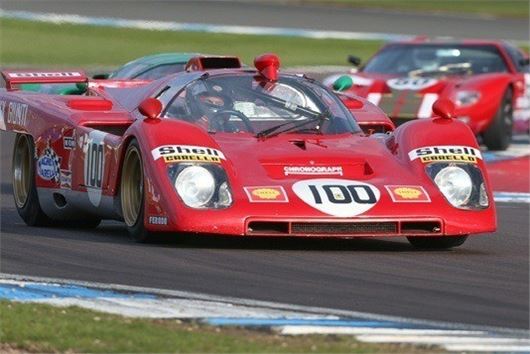 Published 13 January 2016
Some 400 cars will compete in 17 races at the Donington Historic Festival over the May Bank Holiday weekend.
Fans of historic motorsport of all eras will be in for a treat when race from the 1920s to the 1990s take to the Donington track on Saturday 30April, Sunday 1May, and Monday 2 May. Expect to see Le Mans prototypes, GT cars, sports cars and Touring Cars.
The oldest cars out on track will be the 'Mad Jack' pre-War sports cars. Named after Richard 'Mad Jack' Shuttleworth, winner of the first-ever Donington Grand Prix in 1935, this grid should delight fans of wire wheels and big steering wheels, as it features huge 1920s and '30s Bentleys and powerful Bugattis and Frazer Nashes sharing the circuit with tiny Morgans, Austin Sevens and Rileys.
Donington celebrates the 80th anniversary of Richard Seaman and Hans Ruesch's victory in the 1936 Donington Grand Prix this year, and the festival marks that anniversary with the HGPCA Nuvolari Trophy, in which the HGPCA will be fielding a grid of iconic Grand Prix and Voiturette cars up until 1950, such as P3 Alfa Romeos, Bugatti T35s and T37s, ERAs, Talbot-Lagos and 8CM Maseratis.
The inimitable speed and style of 1950s and '60s sportscars and GT cars such as C- and D-type Jaguars, 300S Maseratis, Lister Costins and Cooper Bobtails will be seen in the Royal Automobile Club Woodcote Trophy, the Stirling Moss Trophy and the GT & Sports Car Cup. And 'big cat' fans can enjoy watching a range of pre-1966 Jaguars for the Jaguar Heritage Challenge.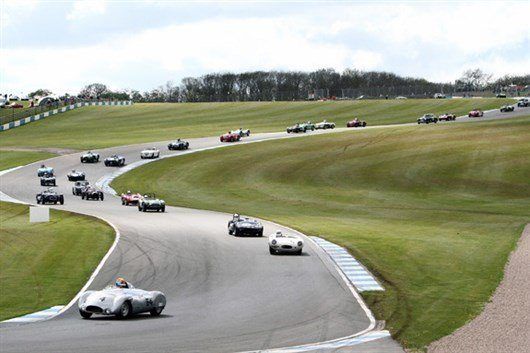 Touring Cars are always very popular, and the Donington Historic Festival will present a fabulous range of races for 'tin top' fans. The HRDC Touring Greats will pit Mk1 Jaguars against Austin A35s, Hillman Imps, Morris Minors and Ford Prefects, while the HRDC BTCC Celebration 1958-1966 should prove equally enjoyable, as Minis battle it out against Mustangs and Lotus Cortinas. Expect even more Lotus Cortinas in the U2TC for pre-1966 under 2.0-litre Touring Cars.
Bringing the Touring Car contingent up to date are the Historic Touring Car Challenge (think Capris, Rover TWR Vitesses and XJS Jaguars) and the HSCC Super Touring Car Trophy, which will see cars such as Honda Accords and Ford RS500s taking on Nissan Primeras and Alfa Romeo 156.
New for 2016 is a round of the Pre-1980 Endurance Series, making its DHF debut and bringing with it an unmissable mix of sports-racing, GT and Touring Cars such as Porsche 935s, Lola T282s, Chevron B26s and B19s, Porsche Carreras and Morgan Plus 8s.
Donington Historic Festival's mammoth '1000km' race is always a highlight of the meeting. Recreating the spectacular sports prototype battles of the early 1970s, it also features Touring and GT cars, as was traditional back in period. This is where Lola T70s and Chevron B8s thunder round Donington Park, lights flashing, as dusk descends.
Finally, single-seater fans can enjoy a round of the HSCC Historic Formula 2 International Series, where March takes on Brabham and Chevron fights for glory against Lola and Ralt.
The action doesn't stop when the chequered flag falls, though. The unmistakable sound of historic Formula One engines will reverberate round Donington Park once more, in a series of high-octane demonstration runs, and the ever-popular historic rally cars will be burning rubber once more, as the mighty Group B machines and the cars of the Historic Rally Car Register entertain the crowds. Historic karts will also return to Donington Park for the event, as will dozens of car clubs, who will gather in the Club Village in the infield. The race and rally paddocks are both open-access and always draw big crowds.
A single-day advance discounted ticket for the Donington Historic Festival costs £21 and a two-day ticket £34, while a three-day weekend ticket costs just £48 (on-the-gate prices will be £28, £45 and £65, respectively). Children aged under 16 are admitted for free. Advance discounted tickets can be bought via www.doningtonhistoric.com and through the 24-hour ticket hotline 0844 873 7355.
Donington Historic Motoring Festival
Comments
Author

Keith Moody
Latest