Classics star in stubble racing revival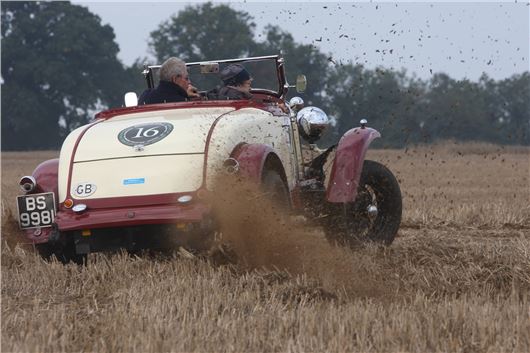 Published 09 October 2015
More than 30 vintage cars raced across farm yards, maize fields and even came under fire at a Stubble Racing Revival held by The Benjafield's Racing Club in Norfolk.
After a hearty breakfast, club members and special guests including Jack Sears, Chris Craft and John Miles, all took to their cars, which included Bentleys, Rileys, Triumphs and Lagondas, and headed for the rally stage created at the Abrey Farm in Thetford. 
Using the various areas of the farm, the competitors faced regularity tests around tractor sheds and barns on gravel, speed trials across open fields, auto tests on grass tracks, off-roading, and even found themselves driving their way out of a maze…cut into a 38-acre field of maize.
Benjafield's competitions captain William Medcalf said, 'We wanted to end the year with an event that was the complete opposite of our Goodwood Sprint but equally as entertaining. The idea of stubble racing came from one of our oldest members.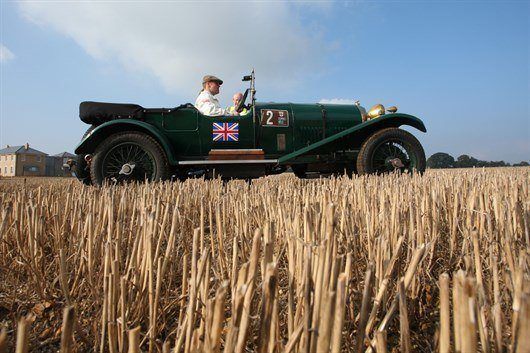 'He described how they used to steal a car, drive it across the farmer's fields and tear the place up until they either ran out of petrol or got shot at. Then they would all retire to the local pub and drink themselves merry. Sounded good enough to me!
'Apart from the stealing cars bit, it sounded very much like the Benjafield ethos – a lot of fun in and out of the cars. The Abrey family kindly offered their farm, resulting in a fantastic event that we hope to repeat.'
As well as the fun element, there were also trophies to be won, with class wins for Georgina and Julian Riley in their Riley, Sean Bramell and Warren Hanlon in their Triumph, Andrew Howe-Davies and Tim Greenhill in their Lagonda, and Paul Carter and James Ewing in their Bentley.
There were also special awards for Kevin and Tania Hutchby in their Bentley and Thomas Abrey and Ivan Pearson in the Ford Model T for spirited driving and effort.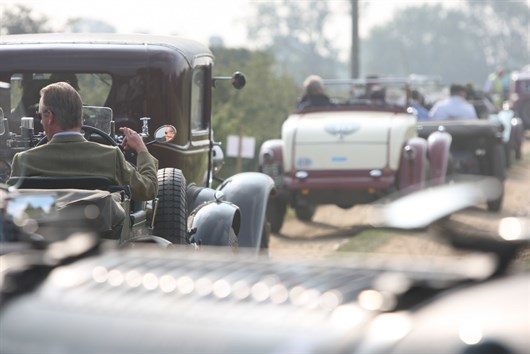 After a glorious day of driving in perfect weather conditions, the guests donned their 1920s and 1930s finery for a gala dinner, with entertainment including Charleston dancers, fire eaters, jugglers and a live band for dancing 'til dawn.
Benjafield's Racing Club was formed in 1990 and takes its inspiration from Dr. Dudley Benjafield, the man who won Le Mans in 1927, with his co-driver Sammy Davis, in a 3L Bentley.
'Benjy' was a member of the 'Bentley Boys', whose 'high life' antics out of their cars became as famous as their achievements in them. Benjy combined a passion for racing, for family, and work, with a desire for good company and good food, a set of values Benjafield's Racing Club strives to emulate.
For more information on how the Benjafields Racing Club, is blazing the trail for pre-war car events visit www.benjafields.com
(Photos: Jim Houlgrave)
Comments
Author

Keith Moody
Latest