Rally greats reunited at show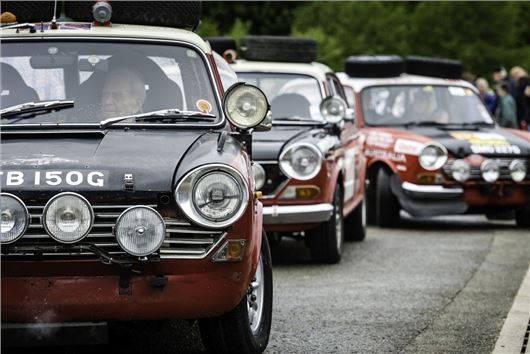 Published 04 June 2015
Some of the greatest names in historic marathon rally history were reunited on Sunday, 31 May, at the Historic Marathon Rally Show.
Drivers including Rosemary Smith, Barrie 'Whizzo' Williams, Mike Broad, Tony Davies, and Pat Smith all gathered at the Heritage Motor Centre, Gaydon.
They were greeted by old friends such as navigators Willy Cave, Mike Wood, Hywel Thomas, and team managers including Stuart Turner, Bill Price and Graham Robson.  
Event organiser Ted Taylor said, 'We had about 500 attendees including 65 famous names for what was a lovely reunion of both the historic marathon cars and crews of the era.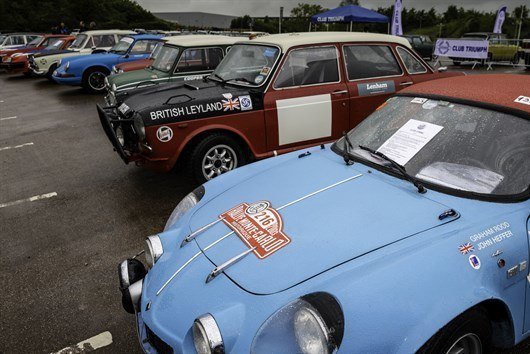 'It was great to see so many of the drivers and navigators catching up and some even still debating results with their old rivals. The weather may have not been as we would have liked it but the atmosphere and camaraderie definitely was!'
With 150 classic and historic cars on display at the show, which was sponsored by the Endurance Rally Association (ERA), there was plenty to see.
Highlights included one of the surviving London-Mexico World Cup Triumph 2.5PIs; KNW 798 the 2.5PI that Brian Culcheth piloted on the East African Safari in 1972; and Austin and Morris 1800s from both the London to Sydney Marathons and the first World Cup Rally.
The ERA was well represented with a fantastic line-up of cars including Phil Garratt and Kieron Brown's Peking to Paris 2013 winning 1937 Chevy Fangio Coupe, Michael O'Shea's 1938 SS Jaguar, Alan Smith's Morris Minor, and David Spurling's 1953 Morgan plus 4, all of which were also Peking to Paris entrants.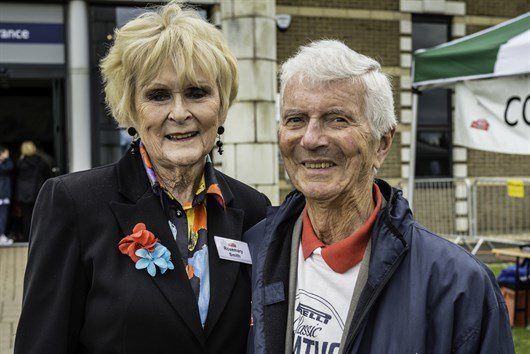 Rosemary Smith, left, with Willy Cave
Bill Cleyndert's Morris 1800 made another splash as the Casablanca and Classic Safari Rally car took guest of honour Rosemary Smith for a ride on the demonstration parade.
David Blackhurst's Ford Focus used in the 2001 World Cup Rally also made an appearance alongside Sheila Wright's Land Rover that competed in the 2002 London to Athens World Cup and the London to Tunisia Rally.
In addition, there were two of the cars belonging to the late Philip Young on display  - the Magenta that he built for the 1977 London to Sydney, his first ever rally, and his 1986 MG Maestro that was used by Jane Edgington and Gill Cotton in the 2012 London to Cape Town Rally. A third car, the Austin Healey that Philip drove in the Himalayan Rally remains on show in the museum itself.
Jane Strange from the ERA said, 'It was a great day and the ERA would like to thank all those who kindly displayed their cars and joined us for the event as well as the many personalities who attended including Rosemary Smith and ERA vice-president Willy Cave.'
Comments
Author

Keith Moody
Latest