Single-seaters head to Donington Historic Festival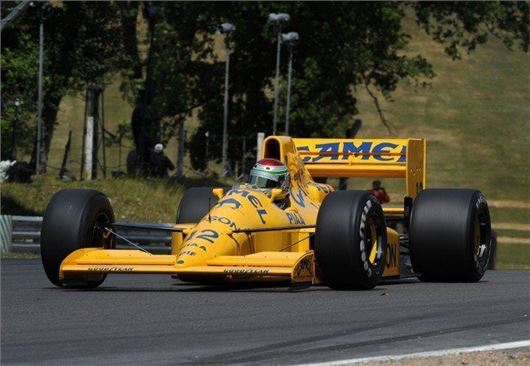 Published 22 April 2015
Fans of single-seater racing cars are set to flock to the Donington Historic Festival over the early May bank holiday.
Nearly 70 racers, from Forumla Juniors to Grand Prix and F1 cars will be on display on 2-4 May. Expect to see 1920s Grand Prix machines and ex-Schumacher and Senna F1 racers will going all-out on track to celebrate the the 80th anniversary of the first-ever Grand Prix at Donington Park.
The earliest examples will be found in the HGPCA's combined grid of pre-War to 1966 Grand Prix, Voiturette and Formula 1 cars. Two exciting races will see ERA take on Aston Martin and Cooper battling Lotus.
Stephen Bond will bring his Lotus 18, the car in which Stirling Moss took victory in the 1961 Monaco Grand Prix. Other star cars include the ex-Moss and Salvadori Aston Martin DBR4 and the 'Grand Prix car that never was' – the Kieft GP that was famously commissioned but never raced in period.
One car with special Donington history is Nick Topliss's ERA R4A. In the hands of Pat Fairfield, it won the 150-mile Nuffield Trophy at Donington in 1935. The ex-Jack Brabham Cooper T53 is likely to be up front, and more Cooper action will come in the form of the Sebring-winning, ex-Jack Brabham and Bruce McLaren Cooper T43.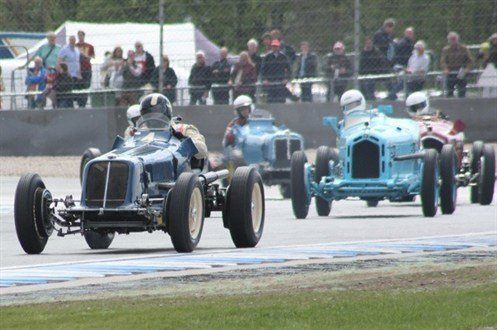 The 'modern' Formula One years are represented by a fascinating selection of cars on display in the Exhibition Centre. These will also make their way out onto the track for lunchtime demonstrations each day so that spectators can see and dhear them in action.
The demonstration cars include Ayrton Senna's 1984 Toleman TG-184-01 Hart Turbo. It was in this car that Senna in his 'rookie' season Senna created a sensation in practice for the British GP at Brands Hatch, setting the fastest time in both of the day's sessions. 
Nelson Piquet and Satoru Nakajima each drove the Camel Lotus/Judd 101/3 back in 1989, with Nakajima driving it to a career-best result of fourth place in the Australian GP. Now that distinctive yellow livery is set to star at Donington Park alongside the Senna Toleman. Other cars sharing the track with them are the ex-Schumacher and Patrese Benetton B193b, which had a very busy 1993 season. 
Historic Formula Junior are set for the biggest turnout in recent years, with 69 cars entered for Rounds 2 and 3 of the 'Silverline' FJHRA/HSCC UK Championship, to be held at the Festival. The races will feature separate grids for front and rear-engined cars, with two races each.
As part of the Elva 60th Anniversary celebrations at the event, there are ten Elva Formula Juniors entered, with one of each of the Junior models represented. The Elva 100 of Mark Woodhouse will be one to watch out for out front in the front-engined race, Mark having been overall Champion in 2013.
The HSCC Historic Formula 2 series is also bringing plenty of entertainment and exhilaration to the party, with two races for its grid of pre-1979 F2 cars. It's an international affair where drivers come from across Europe to take to the track.
In period, Formula 2 was a proving ground for some of our greatest-ever drivers, including Clay Regazzoni, Jim Clark, Jochen Rindt, Graham Hill, Jackie Stewart, Niki Lauda, Jody Scheckter, Ricardo Patrese and Keke Rosberg. Cars due to line up at Donington include Brabham BT36 and BT30, Chevron B17, B27 and B42, Ralt RT1, Lola T240 and March 782, 712, 722 and 78B.
And the tiniest examples of single-seater racing machines will be found out on the Melbourne Loop, as the members of the British Historic Kart Club put their small but beautifully formed vehicles through their paces.
Other entertainment includes an impressive array of 'supercars across the decades', the mighty Group B cars and the Historic Rally Car Register burning rubber, plus dozens of car clubs forming a 'living motoring museum' in the infield. 
Advance discounted tickets cost £20 for a single day ticket, £32 for a two-day ticket and just £45 for a three-day weekend ticket (on-the-gate prices will be £25, £40 and £60, respectively). Children aged under 16 are admitted for free.
Advance discounted tickets can be bought via www.doningtonhistoric.com and through the 24-hour ticket hotline 0844 873 7355. Advance ticket sales close at 5pm on Wednesday, 29 April. 
Comments
Author

Keith Moody
Latest