Legends unite for new rally show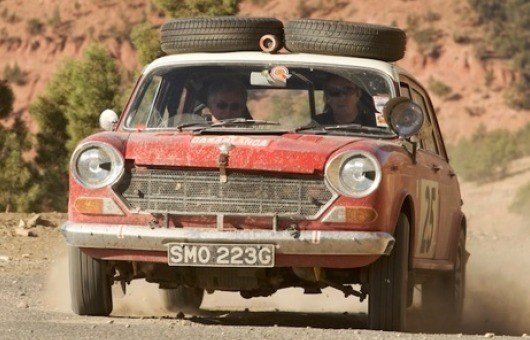 Published 25 February 2015
Legendary rally drivers, navigators and cars that competed in Marathon Rallies from the late 1960s to the early 1990s will reunite for the Historic Marathon Rally Show on Sunday, 31 May, at the Heritage Motor Centre at Gaydon, Warwickshire.
This new event, free to the public, will celebrate the exploits and endeavours of those men, women and cars that competed in International Historic Rallies before 1982, with the emphasis on Marathon cars of this period. Expect to see famous cars from the 1968 London to Sydney Marathon, the 1970 London to Mexico World Cup Rally, the 1974 London-Sahara-Munich World Cup Rally, and the 1977 London to Sydney Marathon.
In addition, there will be a tribute to the Endurance Rally Association's fantastic Pirelli Classic Marathons of 1988-91, organised by Philip Young, who is generally credited with having kick-started the historic rally movement, together with a celebration of the East African Safari Rallies of the 1970s and 1980s.
Organised by the team behind WCR40, the hugely popular and successful rally day held to celebrate the 40th anniversary of the 1970 London to Mexico World Cup Rally, the Historic Marathon Rally Show will give fans an up-close snapshot of motorsport history.
Ted Taylor, one of the main organisers, said, 'This is a celebration and we're inviting the owners of as many genuine Historic Marathon cars, the personalities and competitors that drove and navigated them, and their team members to a fantastic reunion.
'The stories and memories shared will show the tenacity, courage and vision that both factory teams, private competitors and support crews showed at a time when the world was a much larger place and when lands were much less travelled.'
Inside the Heritage Motor Centre there will be lively Q&A sessions, unseen film footage of the period, interviews with competitors, reunions galore, and seminars.
Outside will see parades of the famous cars involved, club and trade stands and a whole host of interactive opportunities for the public to get up close and personal and experience what it was like to be a part of those wonderful days of Marathon Rallying.
The event is supported by Club Triumph, which will host a display of sporting models, and sponsored by the Endurance Rally Association, which will feature cars, people and stories from the first international event for historics, the 1988 Pirelli Classic Marathon, through to the Around the World in 80 Days, London to Cape Town World Cup Rally and the Peking to Paris.
The Historic Marathon Rally Show is held at the Heritage Motor Centre, Gaydon. Entry into the show is free but the normal museum entry fees apply. Doors open at 10am with free parking. For more information and the latest show news, visit www.historicmarathonrallyshow.com.
Car owners and personalities involved are invited to contact Ted Taylor via e-mail to ted.taylor@bigfoot.com or telephone Ken Green on 01922 452608 to confirm their attendance. 
Comments
Author

Keith Moody
Latest