Battle of Britain race for Silverstone Classic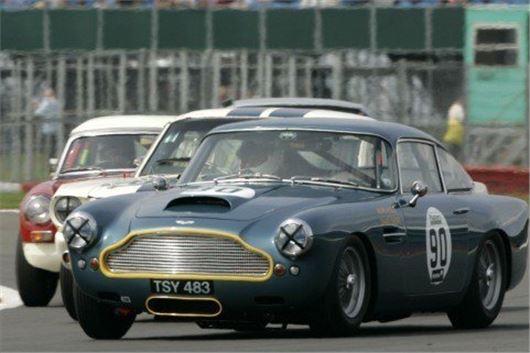 Published 05 February 2015
Two new races for British GT and saloon cars from the Fifties and Sixties have been added to this summer's Silverstone Classic.
The two 20-minute 'Battle of Britain' races will be for cars built between 1947 and 1965 and will take place at the Classic over the weekend of 24-26 July.
They races will commemorate the 75th anniversary of the 1940 air battle and will be accompanied by aerial displays by Spitfires and other Second World War aircraft.
It means that this year will offer the most comprehensive line-up of on-track action ever seen at the Silverstone Classic.
There will be 22 races at the event, ranging from pre-War sports cars from the Twenties and Thirties to super tourers and 1990s GT Legends.
Visitors will be able to see grids packed with famous British-marques like Aston Martin, Austin, Austin-Healey, Ford Cortina, Ginetta, Hillman, Jaguar, Lotus, MG, Mini, Marcos, Morgan, Morris, Riley, Sunbeam, Triumph, TVR and Wolseley.
Nick Wigley, event director, said, 'You only have to look at all the fabulous displays put on by car clubs at the Classic to know that the Fifties and Sixties were glory days for the British motor industry with brands such as Mini, MG and TR very much to the fore.
'Now we will have lots of these wonderful icons competing against each other in what are going to be hugely exciting, patriotic and crowd-pleasing encounters.'
The two new Battle of Britain races are being promoted by Masters Historic Racing - the organisation behind several of the other championships on the bill, including the popular FIA Masters Historic Formula One and FIA Masters Historic Sports Cars grids.
There will be six different classes, ranging from touring cars with sub-1300cc engines to GT cars with engines over 3.0-litres.
The results from Saturday's race will set Sunday's grid with class winners based on the combined classification of both races.
Early bird tickets for the 2015 Silverstone Classic are already on sale, offering a discount of up to 15 per cent.
Adult prices start at £34 and provide acess to both race paddocks, trackside grandstands and the live music concerts.
For more information, visit www.silverstoneclassic.com. 'Battle of Britain' regulations and entry forms are available from www.mastershistoricracing.com.
Comments
Author

Keith Moody
Latest