Young Morris Minor owners' pledge to raise classic awareness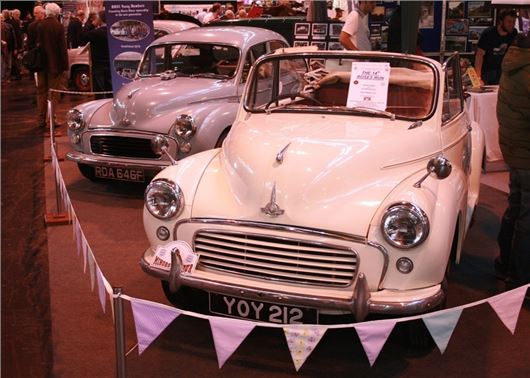 Published 14 November 2014
Young Morris Minor owners broke new ground at the NEC Classic Car show by pledging to work with other clubs to get more youngsters involved with the historic car scene. 
Youth secretary Matt Tomkins, 21, said: "Our branch of the Morris Minor Owners Club has 460 members. However, our goal is to promote classics and get more youngsters involved. We are already speaking with other clubs to see how we can work together to get more youngsters to attend events and rallies."
The Young Members Register was formed to give the members of the Morris Minor Owners Club aged between 16-30 their own identification. The club is open to all Morris enthusiasts and you don't need a driving licence to be a member.
Andy Wilson, 21, has been part of the club for a number of years and his 1961 Minor 1000 took centre stage at the club stand at this year's NEC Classic Car Show.
"I actually own two Minors," said Andy. "I use my second car, a 1963 saloon, as my daily driver and cover 40 miles every day. Our club is using this show to tell other youngsters that they needn't be scared of classic cars. There's lots of younger people involved and we're prepared to work together to ensure that future generations can enjoy classic cars."
To find out more about the MMOC's Young Members Register, click here.
Comments
Author

Dan Powell
Latest