Rover celebrations set for NEC classic motor show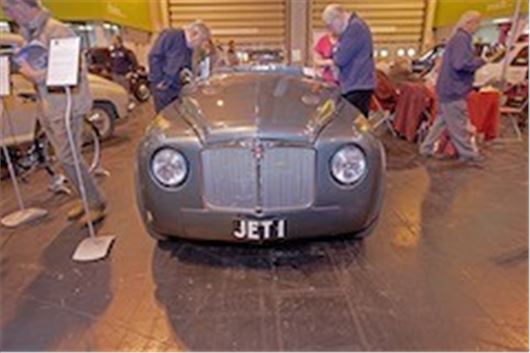 Published 11 September 2014
To celebrate 130 years of Rover, there will be a special 'Rover village' at this year's NEC classic motor show. Around 1000-square metres will be devoted to the marque, with the P4-based Marauder already confirmed to appear in Hall 17 in November.
Formed by Rover engineers George Mackie and Peter Wilks, the Marauder Car company lasted just two years and only 15 cars were produced before Mackie and Wilks returned to Rover.
Several Rover clubs are working together to make the show a success, including the Rover Sports Register, the Rover P6 Club, SD1 Club, 75 and MG ZT Owners' Club, The Rover Coupe Owners' Club, and 200 and 400 Owners' Club.
Philip Copperwheat, who is co-ordinating the celebrations, said, 'The Rover Village will be a great opportunity for the Joint Rover Owners' Clubs to come together in one area to display Rover Motor cars covering the years of Rover motor car production.'
As part of the celebration, show organisers also extended an invitation to the other Rover clubs for their members to take part as well. The 800 Owners Club, Marauder Drivers Club, The P6 Rover Owners Club, and the Rover 75 and MG ZT Enthusiast Club accepted and will also feature in the display.
Rover began producing cars in 1904 in Coventry, eventually moving to Birmingham in 1946. From its base in Solihull, Rover created the bulk of the company's car production models such as the P4, P6 and SD1 all coming from the factory.
Land Rover was born in 1948 while the Solihull factory would also play host to the Rover's grand experiment – the gas turbine cars the company worked on through the Fifties and Sixties.
During the Eighties and Nineties, Rover joined up with Honda to launch the Rover 200 and 400, before Rover's then-owners, British Aerospace, sold the Rover Group as it was named, to BMW. Not the happiest of marriages, one highlight of BMW's tenure was the Rover 75, a retro-styled saloon designed entirely in the UK.
Sadly, Rover struggled as an independent, and in 2005, just after the marque's centenary, the final Rovers left Longbridge.
The 2014 Lancaster Insurance Classic Motor Show will be held from 14-16 November. For more information on the Lancaster Insurance Classic Motor Show or Classic Motorbike Show as well as all the ticket prices and booking details, visit www.necclassicmotorshow.com.
Comments
Author

Keith Moody
Latest