Record turnout for Triumph TR7 40th birthday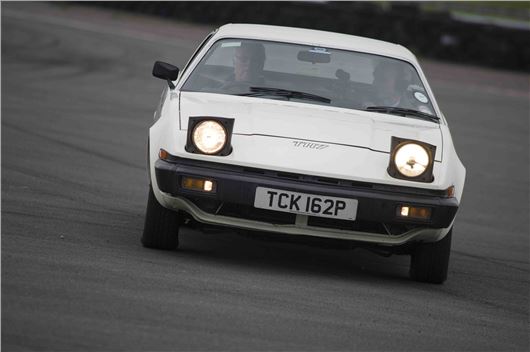 Published 22 September 2014
Over one hundred Triumph TR7's gathered at the Heritage Motor Centre at Gaydon on Sunday, 21 September, to mark the car's 40th anniversary. It was the largest gathering since production ended in October, 1981.
The day began with 42 TR7s making the trip back to the Triumph factory in Speke, Liverpool, as part of the two-day long 'Wedgetastic' celebration.
Rally replicas, V8s, Sprints, fixed-head and drop-head coupes set off from Liverpool at 8am on Sunday, 21 September, and headed south with stops at the Solihull and Canley sites where TR7s were also built.
Finally, the cars lined up outside the Heritage Motor Centre where their numbers swelled to 102. They were also joined at Gaydon by a several key people involved with the TR7, including Triumph chief development engineer Tony Lee and TR7 designer/stylist Harris Mann.
'It's amazing to see all the cars here today,' said Mann. 'The TR7 had to be so radically different because of the US safety legislations. This was a real opportunity to try something completely different. I'm amazed that it's gone down so well over the years.'
Tony Lee added, 'Harris's design was a funny shape, but if we hadn't gone for it, we wouldn't be here today. Harris took the present and moved it into the future. Today, the TR7 doesn't look old fashioned.'
On Saturday, TR Drivers' Club members were given a treat when legendary Triumph test driver, Gordon Burtwhistle, took an early TR7 on a high-speed lap at MIRA's dry handling circuit.
Comments
Author

Keith Moody
Latest