1968 Hepworth/Ferguson makes southern debut at Pistons & Props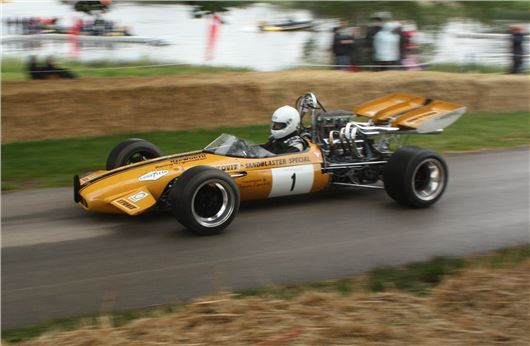 Published 01 September 2014
The 1968 Hepworth/Ferguson that won the British Hillclimb Championship in 1969 and 1971 will make its southern debut on the 'Racing Runway' at this year's Footman James Sywell Classic – Pistons and Props motoring festival, held on 27 and 28 September.
Built by British racing driver, the late David Hepworth in 1968, this Formula 5000 four-wheel drive car was the first car to break the 30-second barrier at Shelsley Walsh in 1971.
Hepworth International, run by David's son Stephen, will also bring the original Cooper/Chevrolet hillclimb car. The Cooper's history goes back to the 1960 Formula One season in which it was entered by RRA for Geoff Richardson to compete with an Alta engine, it was also driven on occasion by Paul Emery.
The car then passed into the hands of British entrant Jackie Epstien, before being sold to Hepworth who fitted the car with a Chevrolet engine for Hillclimbing and although proved itself to be a handful, David enjoyed relative success before moving on to the Brabham BT3.
The Cooper with its Chevrolet was sold on and it is known to have passed through a bailiff's office in Weston-Super-Mare in 1967 sold for just £495. Unknown when the car last competed, it next saw light of day was when it was put up for auction in 2006 and instantly recognised by the Hepworths. It was bought in what can only be described as 'time warp condition' requiring a full restoration, which was undertaken in the Hepworth International workshop and kept to the Chevrolet specification that helped David learn his art and later become British Hillclimb Champion.
The aluminium bodywork, which has survived since 1960 has been left carrying the patina that tells the story of the car including pencil drawing showing various modifications.
Adult tickets for Sywell Classic are from £14 when booked in advance, with children aged 5-15 from £5 with free entrance for those under fives. To book tickets visit www.sywellclassic.com.
Comments
Author

Keith Moody
Latest