Bryan Johnson to Race Mini Cooper at Croft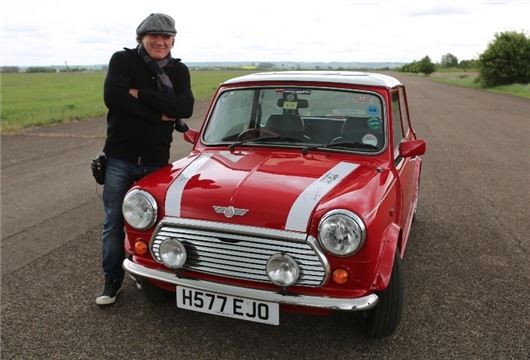 Rock legend AC/DC's Bryan Johnson is to race the Mini Cooper from 'Cars That Rock' at Croft Nostalgia Weekend on 2nd/3rd August.
Bryan, from Dunston near Gateshead, used to go to Croft with his mates to watch the racing in the 1960s. But now he's set to race the 1964 Mini Cooper he fell in love with in his TV show 'Cars that Rock'.
Croft Circuit's Nostalgia Weekend promises an irresistible blend of fast cars, wheel-to-wheel racing, vintage music and dress and fabulous funfair, a special guest is now set to rev anticipation into overdrive.
 
AC/DC's is the biggest selling rock band in the world who's hits include 'Highway to Hell', 'Back in Black', 'Hells Bells' and 'You Shook Me All Night Long'.
Bryan is self-confessed 'car nut' whose first experience of high-octane action came at Croft when he went to watch an MG race at the North Yorkshire venue in the mid-1960s.
"I was 17-and-a-half when I got my first car – a Ford Popular, sit-up-and-beg style and with only three gears," he recalls. "That August, I was in my home village of Dunston near Gateshead with not much to do, when somebody said there was racing on at Croft – so on a rainy day and with just one windscreen wiper on this Popular, myself and two friends headed down there. We drove straight past the lady on the gate because we couldn't afford to buy tickets...
 
"Having got my initial taste of live motor racing at Croft, I jumped at the chance to race at the Nostalgia Weekend. I was recently one of the drivers in a Porsche 911 that finished first-in-class and 20th overall at the Le Mans Classic, but it'll be quite a departure from that car's big fat tyres and rear wing to the little Mini I'll be driving this weekend!
 
"As a circuit, Croft is a complete step into the unknown for me and I've been told it's quite a challenge, so I'm fully expecting a big learning curve and to get my backside royally kicked by the Nostalgia regulars! Hopefully, the test day beforehand will help me to get up to some kind of speed ahead of the racing – it should be a fun weekend and I'm really looking forward to it."
 
Brian has appeared as the 'Star in a Reasonably Priced Car' several times on BBC Top Gear' and heldf the fastest time for most of 2013. James May even went to visit him at his home in Florida, swapping drives of a Tesla Model S with Bryan's 1929 4.5 litre Bentley. Bryan also competed in the 2012 Rolex 24 at Daytona – finishing an eminently respectable 12th in the Daytona Prototype class in a Riley-BMW – and Silverstone Classic Celebrity Challenge.
 
In 2009, Johnson released automotive autobiography 'Rockers and Rollers', which includes a section on Croft. Having played a formative role in his motor sport intoxication, the singer admits it will be enjoyable to finally make his competitive bow at the North East's premier circuit.
 
Johnson is also hard at work recording a new album, preparing for an upcoming world tour and shooting a second series of his 'Cars That Rock' for Discovery and Quest. 
 
Tickets for Croft's Nostalgia Weekend cost just £13 for Saturday entry, £18 for Sunday or £23 for a weekend pass and can be purchased on the gate. Accompanied children aged 15 and under go free.
 
Comments
Author

Honest John
Latest