Bugatti Type 35 to star in Bournemouth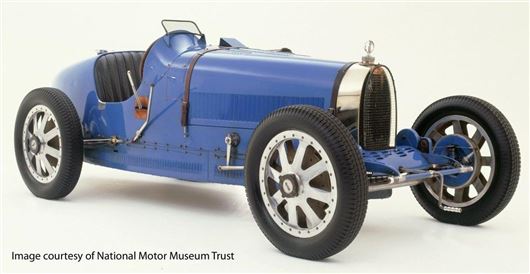 Published 09 May 2014
The 1924 Lyons Grand Prix Type 35 Bugatti will star at the new Bournemouth Wheels Festival (24-26 May), a free wheels-themed family festival will be supported by the National Motor Museum at Beaulieu.
The new event is run over three days, and features three arenas, one pier jump, the UK's first coastal speed demonstration straight and more besides. There will be three Grandstands along the beach to watch demonstration runs - and it will be the first time a UK coastal destination has created a specially-made course of this type.
As well as the Bugatti, other star cars include Michael Schumacher's 1992 Benetton, the 1984 Toleman once driven by Ayrton Senna, a Ford GT40 raced by Jochen Rindt and Lotus Formula 1 driver Innes Ireland, and many more. As well as all of this, the 1920s Bournemouth Pavilion will host a pre-war and vintage car display celebrating the early years of motoring, featuring more than 100 exceptional cars such as Bentley, Talbot, MG, Alvis, Riley, Frazer Nash and many more.
As well as the Type 35 Bugatti, the National Motor Museum will also bring two additional pre-war cars to the Festival, which can be seen in a marquee on the seafront close to Boscombe Beach (Undercliff Drive) during the three day event. These are the 1935 Auburn 851 and 1939 Rolls-Royce Alpine Eagle, a sporting version of the Silver Ghost, which was named because the Rolls-Royce team swept the board in the 1913 Austrian Alpine Trials.
Jon Weaver, Bournemouth Wheels Festival Director, said: 'To have such an iconic vehicle at the first Wheels Festival is an amazing coup and I'm sure this racing car alone will be a big draw for Festival-goers. It is brilliant to have The National Motor Museum, Beaulieu supporting the event and we can't wait to see the Type 35 Bugatti join other pre-war cars, F1 cars, Le Mans cars, supercars and Moto GP bikes on the exciting Demonstration Straight.'
The Demonstration Straight will feature two three hour demonstration shows from 11.00am-6.00pm Saturday and Sunday and 11.00am-5.00pm on Monday. 
For more information visit bournemouthwheels.co.uk
Comments
Author

Keith Adams
Latest