Bugattis to star at Prescott Hill Climb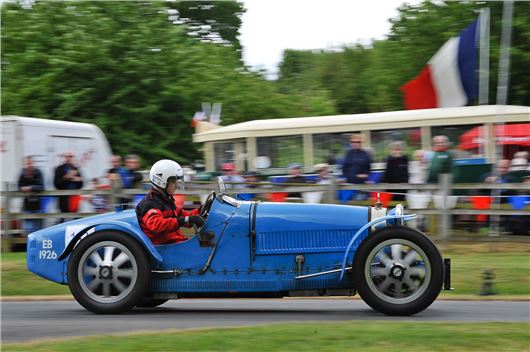 Published 24 April 2014
The annual French invasion of La Vie en Bleu makes a welcome return to Prescott Hill Climb on 24-25 May - and Bugatti will once again steal the show. This year sees many of its regular competitors plus Amilcars, fresh from their UK rally, and a regular London to Brighton entrant - a Panhard Levassor.
There will be three Bugatti Veyrons courtesy of Jack Barclay, and each day, one visitor that participates in the Friends of Prescott raffle will win a ride in a Veyron. But the world's second fastest production car won't completely steal the show. Roland Duce will be competing in his beautiful Delahaye 135M, and also thrilling us with his Bugatti Type 57. The original T57 and later versions were designed by Jean Bugatti and were built between 1934 and 1940, with 710 being made.
Entertainment, is French themed with the beautiful and talented can-can dancers, live music, a Parisienne 1920s Renault bus, brave stilt walkers, an accordion player – reminiscent of Monsieur Alfonse played by Kenneth Connor in the 1980's television show Allo Allo. Even the Gendarmes will be there! 'Le Shopping' – a French style shopping village with food, art, and of course French berets. Food and drink will be French influenced with crepes and plat du jour.
In addition to Bugatti, a wide variety of car clubs have confirmed their attendance, and will have displays in the Orchard including:
Club Alpine Renault, Renault sport Clio Trophy owners club, Renault Alpine Owners Club and Renault Owners Club
SIMCA and Matra Enthusiasts
Citroen Car Club, combined with Traction Owners Club and 2CVGB Owners Club
TVR Club Midlands and TVR Club Oxford
Peugeot Sport Cars UK and Club Peugeot
Southern Division Rhocar, C10C Car Club, Cotswold Car Club, Pembleton Cars, Motor.net and Rover 75 & ZT, VSCC, Delage, Hotchkiss, Voisin and Teal owners club
Comments
Author

Keith Adams
Latest