Toyota Supra Mk4 hits 20... and celebrates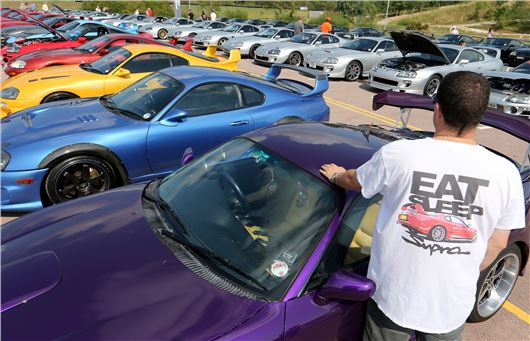 Published 28 August 2013
Famed for their appearances in the Fast & The Furious films, well as humbling established supercars, the fourth generation Toyota Supra was a bit of a wake-up call for the rest of the car industry. When it was launched at the Chicago show in 1993, it redefined enthusiasts' expectations of what power and performance you could get for the price - and 20 years on, owners of these cars gathered in Gaydon to celebrate its birthday.
Almost 100 Supras made the trip to the Heritage Motor Centre in Warwickshire to celebrate the car's 20th anniversary. The Toyota Supra Owners Club hosted the birthday celebration, supported by Toyota GB, and the line-up ranged from cars in original UK specification to highly modified machines, including some of the finest examples in the country.
The Supra's UK history began in 1982 with the arrival of the Celica Supra, although a first generation Supra had already been sold elsewhere in the world. The third generation reached Britain's shores in 1986, and for the first time, was a complete break from the main Celica range, becoming a model line in its own right.
The fourth-generation Supra was launched in the UK in 1993, and was the fastest most powerful of the breed, thanks to twin-turbocharged 326bhp 3.0-litre six-cylinder engine. It soon became a giant killer on the racetrack, and supercar slayer on the road. In later years, the Supra became inextricably linked with the tuning and modification scene - culminating in 'Smoky' Nagata's insane 200mph run on the A1 in his 1000+ bhp example...
But time moves on, and the Gaydon celebrations were far more humble. The Supra Owners Club organized a Supra convoy to the museum and Toyota GB hosted a hog roast lunch. Owners were able to visit the museum's historic vehicle collection and take home a batch of commemorative Toyota Supra cupcakes.
Comments
Author

Keith Adams
Latest