Sir Stirling Moss stars at Shelsley Walsh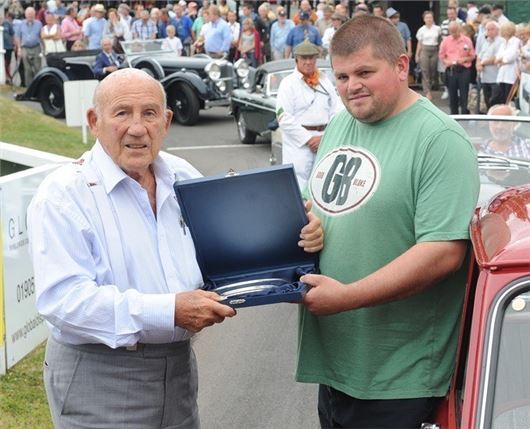 Published 29 July 2013
Sir Stirling Moss was guest of honour at the Classic Nostalgia weekend held at Shelsley Walsh Hill Climb. The annual event attracted a range of competing cars from the 1950s and '60s, and spectators were encouraged to wear period dress to add to the sense of occasion.
Sir Stirling was presented with a certificate to mark his ownership of a 'yard of tarmac' on the course, which is to help fund the restoration and conservation of the hill climb and buildings. He also officially opened the new bar that has been restored as part of the restoration projects.
Sir Stirling commented: 'I have very fond memories of Shelsley Walsh, although my first application to compete was turned down as I was deemed not to have enough experience and I still retain that refusal letter, however, I thankfully won my class at another meeting the following weekend and have never looked back since.
'This Classic Nostalgia event produces some wonderful sights, sounds and magnificent machines from over the years and all in such a pretty setting amongst the wonderful Worcestershire hills, it is delightful to see the place in very good hands and going from strength to strength.
'I am thoroughly enjoying my visit but I am not trusted or allowed to drive anything up the hill as it is deemed far too dangerous for me!" he added with a wry smile.
Sir Stirling also provided further opinions, recollections and humorous anecdotes about his illustrious career during a question and answer session in the courtyard, much to the delight of the assembled crowd. Other celebrities making an appearance were renowned competition Mini drivers Paddy Hopkirk and Barrie Williams, who helped to celebrate the 50th anniversary of the Mini Cooper, with many examples of the marque competing over the weekend.
Pleasing the crowds was Jason Blott with his Ford Zephyr Utility (below) which left a stream of smoke from its tyres away from the start line on each of its demonstration runs.
Another feature of the weekend was a large showing of MGs, ranging from the iconic 'B to coupes, saloons and Midgets competing in the Luffield Cars MGCC Speed Championship. Honours went to James Thacker with his MG Midget in the up to 1500cc class and to Andy Walker with his MGB in the over 1500cc class.
To buy tickets or find further information, visit www.shelsley-walsh.co.uk
Comments
Author

Keith Adams
Latest