Silverstone Classic: bigger and better than ever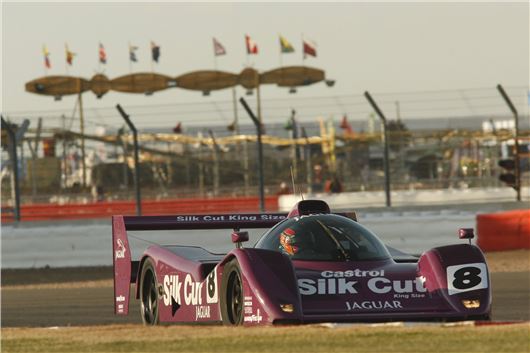 Published 29 July 2013
The 2013 Silverstone Classic – the world's biggest classic motor racing festival – broke its own record number of entries, producing some of the best historic racing ever seen in the process.
A record total of 1113 single-seater, sports car and touring car machines, spanning nearly 90 years of motor sport history, followed up Saturday's action with another packed bill of races on Sunday, watched by a record crowd of close to 90,000 fans over the weekend.
Nic Minassian smashed the Classic lap record in the Jaguar XJR14 on his way to Group C victory. After the opening Group C race was cancelled on Saturday due to adverse weather conditions, fans lined the circuit to watch Sunday's 1980s race, starring Le Mans cars in period livery.
Minassian won, setting his record lap time of 1:36.712s on the way – which was more than a second quicker than the previous best set by Bob Berridge in the Mercedes C11 back in 2011.  'To be given a car like this to drive, and at an event like this, is just pure joy,' said Minassian.
Michael Lyons did the double in the FIA Masters Historic Formula 1 Championship races, as he backed up Saturday's win with another on Sunday. The race got off to a dramatic following a three-car accident at the start. After a short spell behind the safety car Lyons blasted away from his rivals and the RAM Williams FW07 sailed to victory in a race representing the Classic's most recent era of F1.
The Ferrari 250 SWB of Gary Pearson and Jackie Oliver claimed the famous Tourist Trophy, withstanding a late charge from the pole-sitting Aston Martin DP212 of Wolfgang Friedrichs and Simon Hadfield. An epic battle between a Jaguar D- and C-type ensued in the aforementioned Woodcote Trophy. The D-type of Gary and John Pearson held on to take the win – incredibly by just 0.429s after an hour of racing.
With the 50 year anniversary of Jim Clark's maiden British Grand Prix win and Formula One World Championship being so hugely celebrated at this year's Classic, his original 1963 Lotus 25 was taken to another class victory by Andy Middlehurst. The race – named the Jim Clark Trophy for HGPCA pre-66 GP cars – was again won overall by Jason Minishaw in a Brabham BT4.
So the sun has set on another record-breaking Silverstone, with 24 races, rock concerts and family fun. Silverstone Classic Event Director Nick Wrigley said: 'The Classic is getting bigger every year, we've hit some record numbers in 2013. I've just been up on the BMW eye to close out the day, and it's incredible to see how this event has developed over the last four years.'
---
Provisional Race Results for Sunday

Balvenie Trophy for Historic Formula Ford
1)    Callum Macleod (Merlyn Mk20): 9 Laps
2)    Callum Grant (Merlyn Mk20a): +6.028
3)    Sam Mitchell (Merlyn Mk20): +6.384

Royal Automobile Club Woodcote Trophy for Pre '56 Sports Cars
1)    John Pearson/Gary Pearson (Jaguar D-type): 23 Laps
2)    John Young/Chris Ward (Jaguar C-type): +0.429
3)    Andrew Smith/John Young (Cooper Jaguar T33): +9.055

Peter Arundell Trophy for Historic Formula Junior
1)    Sam Wilson (Lotus 20/22): 9 Laps
2)    Andrew Hibberd (Lotus 22): +2.590
3)    Jonathan Milicevic (Cooper T59): +2.873

Royal Automobile Club Tourist Trophy for Historic Cars
1)    Jackie Oliver/Gary Pearson (Ferrari 250 SWB): 18 Laps
2)    Wolfgang Friedrichs/Simon Hadfield (Aston Martin DP212): +13.544
3)    James Cottingham/Andrew Smith (Jaguar E-type): +15.158

Group C Endurance
1)    Nicolas Minassian (Jaguar XJR14): 21 Laps
2)    Gareth Evans (Mercedes C11): +1:48.191
3)    Steve Tandy (Nissan R90CK): +1 Lap

Frolian Gonzalez Trophy for HGPCA Pre '61 Grand Prix Cars
1)    Julian Bronson (Scarab Offenhauser): 9 Laps
2)    Tony Wood (Maserati TecMec): +1.487
3)    Rod Jolley (Lister Jaguar Monzanapolis): +29.670

Super Touring Car Trophy
1)    Frank Wrathall (Vauxhall Cavalier): 8 Laps
2)    Stewart Whyte (Honda Accord): +6.214
3)    Craig Davies (Ford RS500): +33.963

FIA Masters Historic Formula One
1)    Michael Lyons (RAM Williams FW07): 10 Laps
2)    Joaquin Folch (Brabham BT49C): +25.462
3)    Steve Hartley (Arrows A4): +31.737

Trans-Atlantic Touring Car Trophy
1)    Leo Voyazides (Ford Falcon): 8 Laps
2)    Henry Mann (Ford Mustang): +16.324
3)    Roger Wills (Mercury Comet Cyclone): +19.915

Jim Clark Trophy for HGPCA Pre '66 Grand Prix Cars
1)    Jason Minshaw (Brabham BT4): 9 Laps
2)    Miles Griffiths (Cooper T51): +17.810
3)    Jonathon Hughes (Cooper T53): +21.196

The Peter Gethin Trophy for Formula 5000 and Formula 2 Cars
1)    Michael Lyons (Lola T400): 11 Laps
2)    Lee Dwyer (March 782): +35.888
3)    Mark Dwyer (March 742): +1:18.683
Comments
Author

Keith Adams
Latest