Report: Le Mans Legends 2013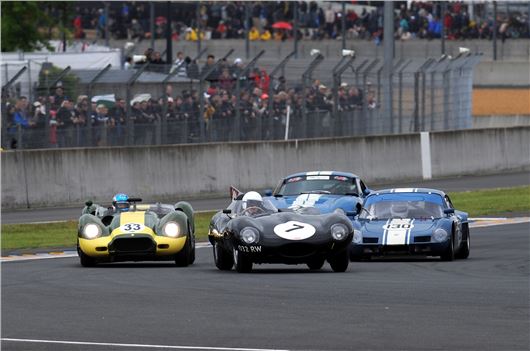 Published 25 June 2013
As the Radio Le Mans commentator put it when the chequered flag fell on the Le Mans Legend, the 45-minute historic race run by Motor Racing Legends as a curtain-raiser to the Le Mans 24 Hours, 'That was a real motor race – a perfect start to the weekend.'
Light rain started to fall, making the track treacherously slippery as the huge 60-strong grid of 1949-65 Le Mans cars assembled for the green flag lap, and spectators then raised umbrellas as the rain came down harder. Derek Hill, son of the late former Le Mans winner and F1 World Champion Phil, spun his Maserati 151 Coupé at Indianapolis, dropping from his 9th position to the back of the field. He weaved his way back to his proper place well before the rolling start and the full grid arrived at the start in perfect order.
From the front row, Ludovic Caron's AC Cobra Daytona Coupé put its nose ahead when the red lights went out, but Alex Buncombe's pole-sitting Lister-Jaguar Costin had a narrow lead as they entered the Dunlop Chicane. Immediately behind, the action was frantic, with Gary Pearson pulling off a daring slide through the chicane to put his D-type in second place. By Tertre Rouge, Carlos Monteverde had seized second place with his yellow 250LM, the Ferrari with which he won this race a few years back.
However, the action was only just beginning. The phenomenally fast qualifying speeds – Alex Buncombe had averaged 174.7km/h to take pole – were not possible in these conditions, but the action was still fast and furious. Hill's Maserati had second place approaching the second chicane but the D-types of Pearson and Anthony Reid were Buncombe's closest followers as they left it.
While Buncombe slithered impressively towards a lead of 10 seconds on lap one, Reid pulled off with engine worries at Arnage and Monteverde's smoking Ferrari headed slowly for the pits and retirement. Still the battle raged on unabated, with Pearson coming under pressure from Jon Minshaw's Lister Knobbly and Roger Wills's big ISO Bizzarrini, while Gareth Burnett's little two-litre Elva GT160 was doing an incredible job of mixing it with the powerful front-runners.
The rain then fell even harder and something had to give. Two cars went off separately at Indianapolis, Paul Chase-Gardener's 1952 Aston Martin DB2 flying sideways into the gravel trap, digging in and rolling spectacularly. The driver was unhurt but the car was badly damaged.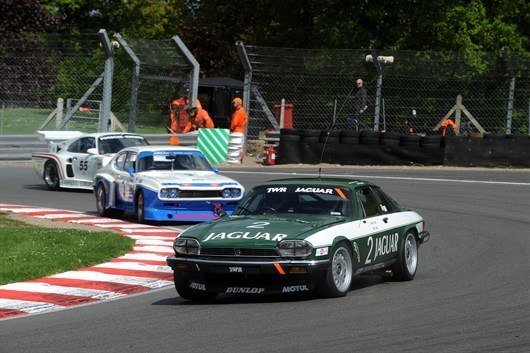 Spectators then focused on the great battle for second place between Minshaw, Pearson, Wills and Lynn, which was resolved in that order after much drama and overtaking. "There was probably more overtaking in this 45-minute, nine-lap race than we have seen in F1 in the past 10 years," said one spectator after the race.
Among the class winners, Patrick Watts managed to bring his Allard J2 home in an impressive 14th overall, while Gary Pearson's thirdoverall was also a remarkable performance for another of the older cars in the race. However, Alex Buncombe's mastery of the adverse conditions to win outright by 43 seconds was the outstanding feature of the 2013 Le Mans Legend.
A sad moment came with the failure of the engine of Georges Gachnang's Cooper Monaco in qualifying. Georges, a Swiss Toyota and VW dealer, is now 82 years old. He competed in the 1960 Le Mans 24 Hours in an AC and was looking forward to his return to the great French circuit. His weekend was not entirely wasted, however, because two of his grandchildren were in the modern 24 Hours – Natacha Gachnang in a Morgan-Judd LMP2 car and none other than Sebastien Buemi in a works Toyota LMP1.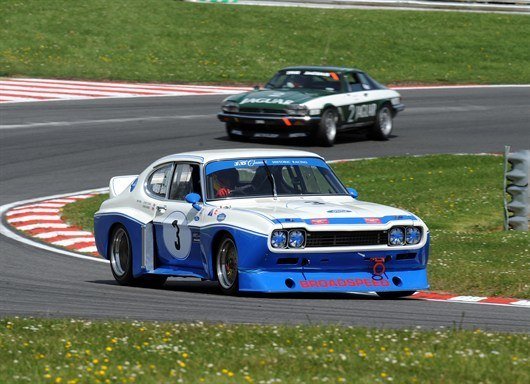 Top ten
60 Alex BUNCOMBE – 1959 Lister Costin
33 Jon MINSHAW – 1959 Lister Jaguar Knobbly
7 Gary PEARSON – 1955 Jaguar D-type
36 Roger WILLS – 1965 ISO Bizzarrini 5300GT
13 Shaun LYNN – 1963 AC Cobra
201 Ludovic CARON – 1963 AC Cobra Coupé Daytona
130 Gareth BURNETT – 1964 Elva GT160
117 Chris HARRIS – 1959 Lister Le Mans Coupé
37 Philip WALKER/Danny WRIGHT – 1958 Lotus 15
49 Gavin PICKERING – 1955 Jaguar D-type
Fastest lap
Ludovic Caron – 1963 AC Cobra Daytona Coupé (lap 4) 4min 43.918sec
Class winners
Class 1 Chris Conoley/ Neil Howe – 1947 HRG Le Mans Lightweight
Class 1a Patrick Watts – 1950 Allard J2
Class 2 Philip Walker/Danny Wright – 1958 Lotus 15
Class 2a Gary Pearson – 1955 Jaguar D-type
Class 3 Yves Junne – 1959 Lola Mk1
Class 3a Alex Buncombe – 1959 Lister-Jaguar Costin
Class 4 David Clark –1959 Lotus Elite
Class 4a Tom Alexander/Adrian Wilmott – 1960 Aston Martin DB4GT
Class 5 Gareth Burnett – 1964 Elva GT160
Class 5a Roger Wills – 1965 ISO Bizzarrini 5300GT
Class 6 Helen Elstrop/Colin Elstrop – 1964 TVR Grantura
Class 6a Shaun Lynn – 1963 AC Cobra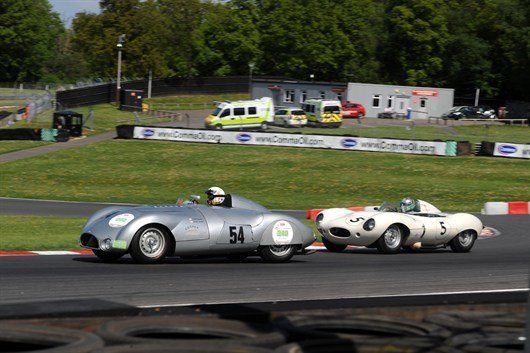 Comments
Author

Keith Adams
Latest