Hidden Heroes: Rover 45 2003 Model Year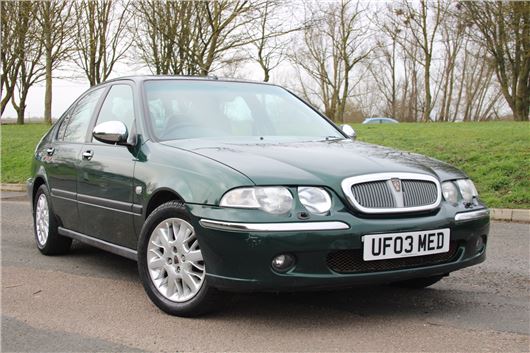 Published 20 December 2019
Right, cut us some slack on this one as it takes some explaining. The Rover 45 itself was never a car that was going to set the world alight, itself a rehashed Rover 400, which was - in turn - a rehashed Honda Civic. 
During its turbulent final years, MG Rover had to stick with the 45 as it had no money to develop anything to replace it with, while at the same time the company's bean counters were fresh out of beans to count, which meant a hardcore rationalisation programme called Project Drive, which involved stripping as much expense as possible out of all of its cars in order to increase the profitability of each individual model. 
As a result, the 2003 model year 45 became - completely by accident - by far the best iteration of the car. In 2001, MG Rover had launched the ZS - a sports saloon based on the 45 and recognised as one of the best-handling front-wheel-drive cars ever made. It was a testimony to the company's chassis engineers that they'd achieved this with no budget. With no beans to count, the bean counters realised that MGR was fitting two different suspension set-ups to the HHR (as the 45/ZS was known internally) so insisted that one set up went in the bin. So the 'comfort' suspension and steering set-up of the 45 was chucked in a skip and even the base model 1.4iE got sports suspension. 
Then there was the gearbox. The old 'R65' transmission was co-developed with PSA and Rover's share of the intellectual property was kept by BMW to use in the new MINI, so MG Rover was buying in gearboxes at an inflated price. Its procurement department brokered a better deal from Ford, so some hasty reengineering was carried out and from MY2003 onwards, the 45 got the slick-shifting five-speeder from the Ford Focus - another car that was renowned for being great to drive. 
So while the interior was clearly more Travelodge than The Ritz, with Formica-style dashboard inserts that looked like the bar in a working man's club and a nasty aftermarket stereo, beyond that the 45 was way more than the sum of its parts. Whisper it, but it was quite the driver's car, with pin-sharp handling and a superb gearshift. If you don't believe us, try and have a go in one as you'll be amazed. 
Those chassis and gearbox improvements continued until the end of MG Rover, but in 2004 the 45 was given a 'facelift' akin to dragging a pig backwards through a lipstick factory, and no matter how good those last cars are, they're hard to love. But for an 18-month period, dictated to by accountants and an underlying tone of desperation, MG Rover accidentally created one of its best-ever cars and forgot to tell anyone about it. Heroes don't come more hidden than this. 
Comments
Author

Craig Cheetham
Latest