Future Classic Friday: Rover 800 Coupe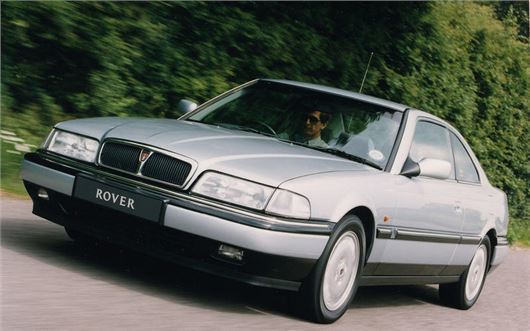 Published 18 May 2018
It's an oft-forgotten fact that the Rover 800 actually started life as a Coupe, with the first hint at the car to come being Roy Axe's CCV Concept, revealed at the 1986 Turin Motor Show.
It was the first time that Austin-Rover had shown the world a clue as to the styling of its new 'XX' model range, which was due to arrive in production form later that year. The CCV gave a very clear hint as to its frontal and rear styling, but on a long wheelbase coupe body that suggested a new market area that the British company could consider tapping into further down the line.
Called the 800 Series in the UK and Europe but destined to go on sale in the USA as the all-new 'Sterling' brand, the newcomer was a flagship executive car to replace the ageing SD1. Developed in collaboration with Honda, whose sister car, the Legend, shared a floorpan and certain drivetrains, the 800 was a diversion from the Fastback layout of the SD1, which wasn't popular in the USA. Instead, it would launch as a four-door saloon, but from the model's inception a 'personal car' was also part of the line-up.
As one of the fastest growing market sectors in the USA, the standard 'personal car' was usually a two-door coupe variant of a large sedan, a la Cadillac Allante, Buick Riviera or Lincoln Mk VII, all of which were popular accessories at America's golf ranches back in the late Eighties.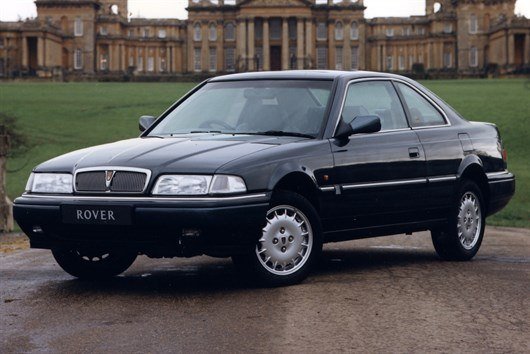 Indeed, ARCONA (Austin-Rover Car Operations North America) dealers wanted the coupe at launch, but were told they had to wait two to three years before it would appear as the parent company focused on launching and selling the 800 saloon in global markets.
Sadly for Austin-Rover, the USA's desire for high-specification cars only led to some disastrous build quality problems in the early days, from which ARCONA never really recovered. The Sterling name was already banjaxed, with no hope of recovering its tattered reputation, while trouble at home meant that Project Anna, the 800 Coupe, had been put on a backburner, despite desperate pleas from the USA that it was needed to save the brand.
In desperation, ARCONA lobbied the management of the now Rover Group (which was rebranded by new owners British Aerospace in 1988) to bring forward the delayed coupe production, while Rover bosses bowed to pressure slightly by revealing design sketches in 1990, two years before the coupe would be market-ready. It was, of course, too little, too late, and by 1991 the Sterling brand was dead in the water, with no plans to introduce the imminent R17 800 facelift to federal markets.
At this point, the 800 Coupe could (and maybe should) have died, but Rover had invested time and money in its design and development, with senior designer Richard Woolley (who went on to style the Rover 600 and 75) leading a group of Rover design staff to create the ultimate luxury definition of the 800.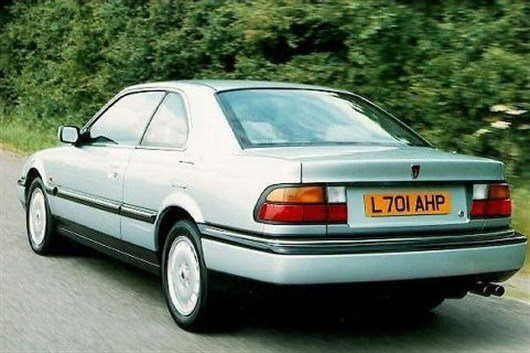 US-withdrawal notwithstanding, Rover's bosses were encouraged by the media response to the R17 facelift in 1991 (at launch, of course, there was no talk of melting dashboards, malfunctioning switch packs, duff fuse boxes and plastic trim falling off, which became 800 bugbears later in life) so they carried on with the Coupe regardless, revealing the production-ready model at the 1991 London Motor Show, ahead of it going on sale early in 1992.
Initially available only with the Honda-sourced 2.7-litre V6 engine and auto gearbox, the Coupe was revealed in one spec alone, with absolutely every feature imaginable, including deep pile carpets, Connolly leather, digital air conditioning and a CD changer. This was a big spec back in 1992, and that interior was genuinely beguiling, with plumper leather than the saloon and fastback models and delicate wood trim. But then, it did cost over £30,000, which would have got you into a BMW 7-series…
The bespoke trim was made possible because more than 80 per cent of each Coupe had to be hand-finished – there wasn't the volume to justify a fully automated production line after ARCONA dropped out, and the wings, doors and boot lid were as unique as the bodyshell – indeed, many a coupe owner has been caught out by the front wings, which look identical to those of the standard 800 saloon, but are actually half-an-inch taller with a lower swage line.
Despite the old-fashioned production methods, the Coupe sold in reasonable numbers – it was never a high-volume car, but it did sell in decent enough numbers for Rover to keep it in production right until the end of the 800 series in 1998.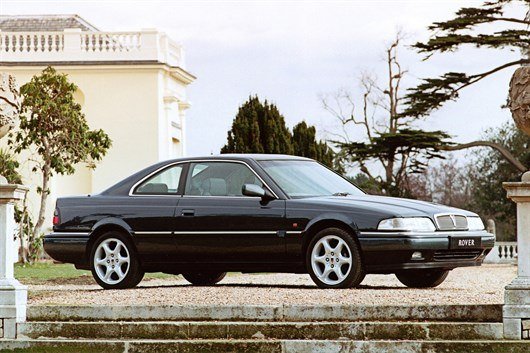 In 1996, the range was increased to include a 2.0-litre normally-aspirated and turbo engine choice (named Sterling and Vitesse respectively) alongside a new 825 Sterling model, which superseded the Honda 2.7-litre V6 with Rover's own 2.5-litre KV6 – an engine far better suited to the big 800, but also infamously more fragile.
It was never a great car to drive hard, but it was a lovely one to cruise in, offering exceptional comfort and high-speed refinement, coupled to a brilliant stereo system (for its day) and some of the best leather seats ever created, even to this day. It's an automotive curiosity - a car that probably should never have seen the light of day, but is truly wonderful as a result, for being such a quirky, oddball and – above all – British vehicle.
Survival numbers are already in the low-hundreds. Buy one now and you're sitting on not just a great investment, but also a fantastic driver's seat.
Comments
Author

Craig Cheetham
Latest
Compare classic car insurance quotes and buy online. A friendly service offering access to a range of policies and benefits.

Get a quote