Future Classic Friday: The Coca-Cola Truck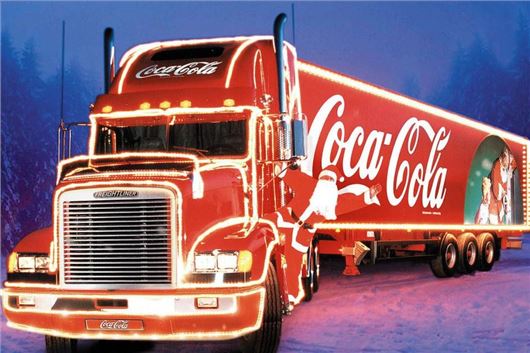 Published 22 December 2017
Regular visitors to Honest John Classics will know that classics from the mid-1990s are absolutely our heartland, so it's no surprise that this week's star future classic made its debut in 1995.
In a 22-year period, it has gone on to become a global household icon - its appearance on our small screens signalling the start of the Christmas holiday period with ts signature 'Holidays-are-coming' theme tune.
Little did Coca-Cola know, when it launched its ad campaign known as 'Caravan' for the 1995 festive season, that the vehicle it created would become globally recognised.
The truck was the brainchild of American ad agency W.B Doner, which came up with the concept of a fleet of trucks going on a tour across the States to accompany its ad campaign.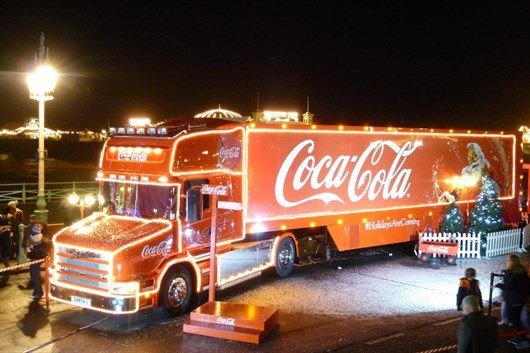 The colourful wagons, finished in Coca-Cola's uniquely distinctive red livery, were enhanced further with a built-in shimmering 'sound and light' show from a special effect company called Industrial Light and Magic, the company behind the special effects in the original Star Wars and Indiana Jones movies. Each truck, incidentally, is said to feature over 350,000 lights. 
Images of the Coca-Cola Santa by artist Haddon Sundblom decorate the sides of the trucks - a nod to Coca-Cola's own part in the modern Christmas story. Until Sundblom's image of Santa Claus appeared in 1943, he'd been portrayed as everything from a giant to an elf, but the chubby, bearded character created by Coca-Cola has become very much his global image.
The original campaign, then, was a big success, causing Coca-Cola to come back with 'Caravan II' in 1996, an evolution of the original advert featuring more of Sundblom's imagery. At the same time, the trucks began to appear on Coca-Cola's packaging for the first time.
The initial batch of Coca-Cola trucks, incidentally, came from US truck maker Freightliner, though those used in the UK have traditionally used the Scania T-Cab, normally used in heavy haulage aplications, which has an elongated bonnet rather than cab-over design and best replicates the traditional American big rig.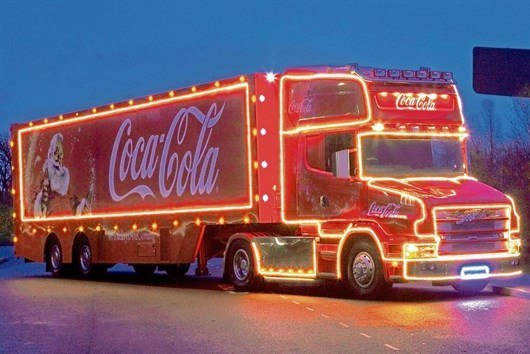 In 1998, Coca-Cola launched 'Caravan III', an ad which it still uses today, but its most famous advertisement featuring the truck was called 'Journey', and was created in 1999. Showed in over 130 countries and featuring a cast of 40, it shows a boy and his grandfather sitting at home reading a Christmas book, as the pages spring to life in front of them.
And it's not just children who find the trucks magical. In 2015, to mark the campaign's 20th anniversary, Coca-Cola ran a competition where one lucky HGV driver got the chance to drive one of the iconic trucks. Professional driver Matt Smith from Andover, Hants, was the lucky winner.
Smith said he had dreamed of driving the truck since the first time he saw the 'Holidays are Coming' advert as a child: 'It was overwhelming to see the truck but then to actually drive it...
'They say that it only really feels like Christmas when you see the Coca-Cola Christmas truck on TV – to have actually driven it is something else. It really was a dream come true to get behind the wheel of one of the most iconic trucks in the world and I couldn't stop smiling.'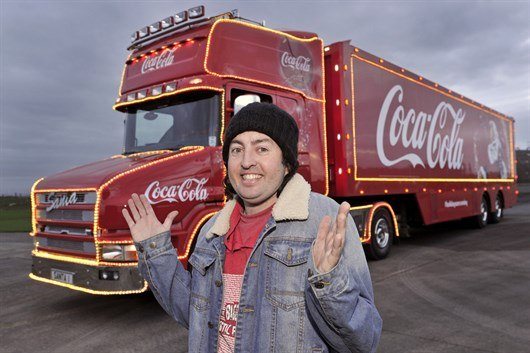 But not everyone has a smile in store for the Coca-Cola lorry, with Duncan Selbie, the chief executive of Public Health England, speaking out against it in the media this year. He said that local authorities which are allowing the signature red truck to stop in their towns and cities should, 'reflect on whether it's in the best interests of the health of local children and families.'
He added, 'Big name brands touring the country at Christmas to advertise their most sugary products to children and boost sales does nothing to help families make healthy choices and wider efforts to combat childhood obesity and rotten teeth
'Local authorities celebrating sugary drinks in this way need to reflect on whether it's in the best interests of the health of local children and families,' Selbie said.
Bah Humbug to him, and Merry Christmas to you...
Comments
Author

Craig Cheetham
Latest