A Grand Monday: Alfa Romeo 916 Spider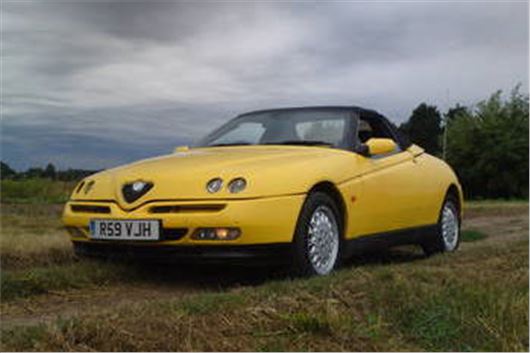 Published 26 December 2016
They say that you're not a true car enthusiast until you've owned at least one Alfa. Indeed, it's fair to say that the Italian brand has never, in its long and illustrious history, ever been a brand with a rational reason for ownership.
Every car it has produced, without fail, has been created as 90 per cent soul, 10 per cent practicality. That means that for every one thing an Alfa does brilliantly, it does about nine things indifferently, at best. Usually, most of those can be forgiven because an Alfa Romeo is more than a car. It's something that, from the very outset, you buy with your heart rather than your head.
So where does that heart/head conundrum kick in at our favourite price bracket? Surely a sub-£1k Alfa is going to deliver nothing more than a bucketful of heartache? Well, maybe. But the flip side is that you're not investing thousands of pounds into a vehicle that may well cease to be anything other than ornamental after a few months. Plus, you might get lucky.
Certainly, this week's Boxing Day bargain looks like it could well be one of the safer options for sub-a-grand Alfa motoring. Finished in distinctive Fiat Broom Yellow (it's a respray, slightly different from Alfa's own Zoe Yellow), the body appears to be very straight and sound, while the current owner has spent a fair amount of his own time ironing out some of the electrical problems, the most significant of which was a malfunctioning electric roof.
The end result is a rare thing - an Alfa Romeo Spider on which practically everything works, and in good overall condition. Black leather, a good spec and Alfa's gutsy 2.0-litre Twin Spark engine add further appeal - the Twin Spark is actually the better option in the Spider, as the V6's extra weight adds to the body flex inherent of cars without a roof. If we were buying a GTV, we'd go V6 all the way, but in one of these, not so.
The MoT history is interesting. In the past couple of years, it has seen a brace of pretty spectacular failures - but these were largely down to tyres, brakes and suspension parts, all of which have been renewed, incuding over £500 of work last May to sort out the front brakes, exhaust and rear bushes.
We've spoken to the owner of this car and he seems a very straightforward and pleasant chap, and is a thoroughly committed enthusiast with a collection of Italian cars. We think he's asking a very fair price for this one, which promises hours of fun once the sun comes out and the days start to get a bit longer. It won't be that long until then, honest...
But it's an Alfa. That means that although £999 is cheap enough (indeed, it's cracking value), don't expect that to be the start and end of your expenditure. Bear that in mind, and it's a bit of a bargain.
Comments
Author

Craig Cheetham
Latest
Compare classic car insurance quotes and buy online. A friendly service offering access to a range of policies and benefits.

Get a quote