Classic advert: Austin Metro - 'A British car to beat the world'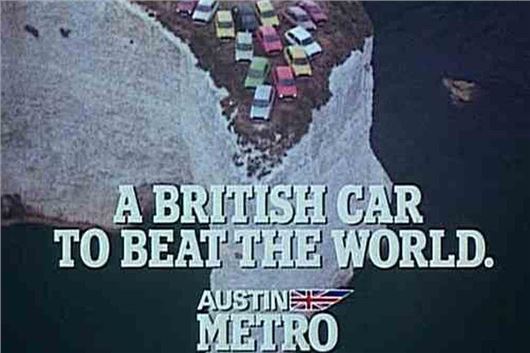 Published 03 December 2015
Can you believe it's 35 years since the Austin Metro – the supermini tasked with 'saving' BL – was launched? Yes, it was in late 1980 that Longbridge's crucial newcomer first hit the streets, amid much fanfare and accompanied by this brilliant TV ad.
Patriotism was the theme throughout, as the voiceover explained that Britain had been invaded over the preceding few years by the Italians, the Germans, the Japanese and the French. The advert then showed shiploads of Fiat 127s, VW Polos, Datsun Sunnys and Renault 5s arriving at these shores, driven on to the beaches as part of the 'invasion'.
'Now we have the means to fight back' was the proud boast, as images appeared of the Metro's robotised production line, followed by a convoy of Metros being driven through Britain – as crowds of flag-waving supporters cheered it on.
And the climax? The sight of the same Metros gathering atop the English south coast's iconic white cliffs, accompanied by 'Rule Britannia' and the claim that here was a 'British car to beat the world'.
Three and a half decades later, it's enough to bring a tear to your eye… 
Comments
Author

Paul Guinness
Latest