A Grand Monday: MkI Ford Mondeo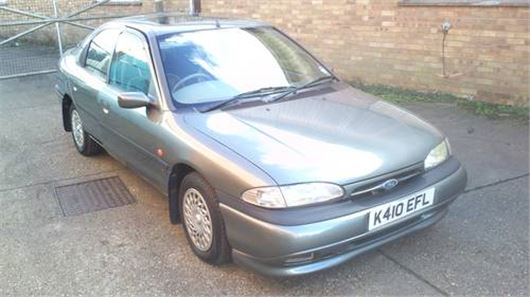 Published 12 January 2015
Launched in 1992, the Mondeo will be 25 years old in a couple of years. Back in the day, that would've been enough to kickstart its journey into classic status with 'free' historic road tax. These days, its future a classic car is less certain.
Which is a shame, because back in the early-1990s, the Mondeo was what today's motoring journalists called a 'gamechanger' and MkI versions of them are rapidly disappearing. We reckon that there are fewer than 200 MkI Mondeos left on the roads today, making this car rarer than many of the more traditional classics that people shout about saving.
And this 1993 Ford Mondeo 1.8 GLX for £695 is definitely worth giving a good home to. On a K-plate, it has covered 71,000 miles from new and has spent most of its life with one owner – a meticulous professor who looked after (the thick history file is a testament to this).
It might not be the luxurious Ghia model, but as a GLX it is fairly well spec'd with electric front windows, sunroof and mirrors. There's key-operated central locking, power steering, and the cool original Ford radio/cassette and CD player, which sadly doesn't work. Neither does the air-con.
Ford fans will note the optional Ford front spoiler with built-in foglights – and the fact that, unlike the majority of MkI and MkII Mondeos you see, this one is not held together entirely with gaffer tape.
Comments
Author

Keith Moody
Latest